NEWS RELEASE
FOR IMMEDIATE RELEASE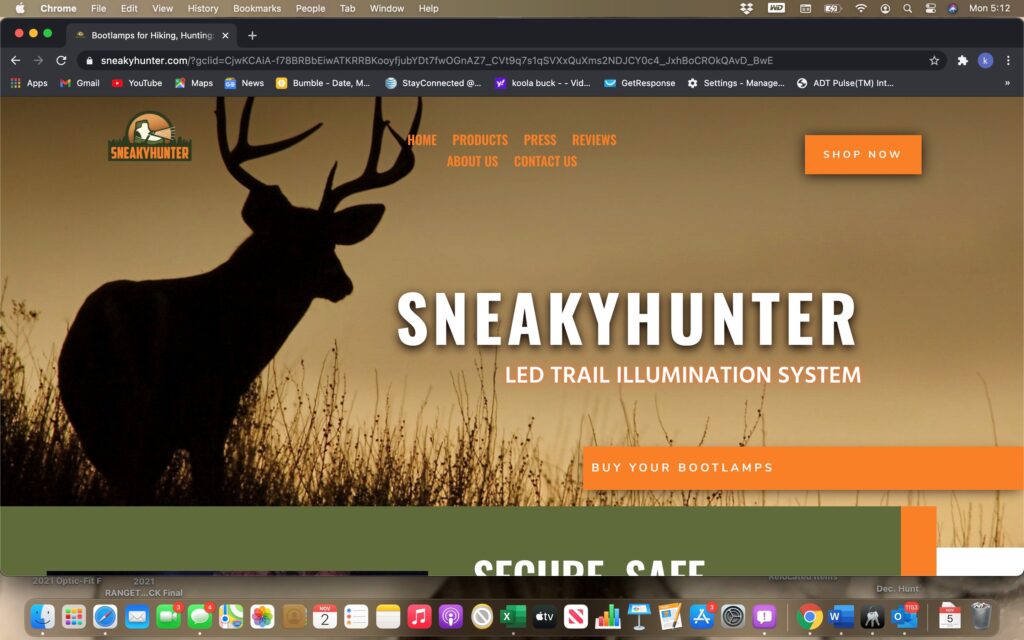 SneakyHunter BootLamps Launches New Website
SALMON, Idaho (Nov. 3, 2020) — SneakyHunter BootLamps –headlamps for your feet that allow you to light your way hands-free – is inviting visitors to explore its newly designed website. The new website has been optimized for mobile and tablet devices and features a newly organized presentation of its bootlamps that creates an easier more user-friendly experience for visitors to experience and understand how the SneakyHunter BootLamps work.
Created with the user experience in mind, the site includes many new features to help visitors quickly and easily navigate the site. New features on the site include:
A new design emphasizing product features
Updated photo library
Product review section
Optimized image processing for quicker load time on all devices (desktop, mobile and tablet.)
"We are always looking to improve our services to our customers," said Jim Manroe, president and owner. "Our new, user-friendly website with more information, photos, and faster load times, does just that. We will continue to strive to provide our existing and new customers with services that better serve their needs."
About SneakyHunter
Founded in 2019 and headquartered in Salmon, Idaho, SneakyHunter offers state-of-the-art bootlamps that are perfect for hunting, hiking and other outdoor activities. These bootlamps provide solutions unseen before with conventional lighting, including three separate, hands-free lighting modes including white, red or green and a particular wavelength in the violet spectrum of light that causes blood to stand out so it can easily be tracked in the dark. For more information on SneakyHunter BootLamps visit www.sneakyhunter.com; call (208) 742-0083 or write to SneakyHunter, 10 Kelly Road, Salmon, ID 83467. 
# # #

Editorial Contact:
Karen Lutto
(210) 451-9113 (office)
(804) 539-6699 (cell)
karen@hunteroc.com
HOC Website: www.hunteroc.com