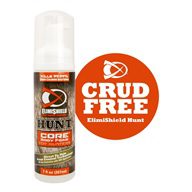 Danville, Ala. (Jan. 7, 2020) — In its effort to help ATA attendees avoid the seasonal show "CRUD", ElimiShield will be offering free samples of its germ killing HUNT CORE Body Foam. Originally designed for the infection and disease control markets, ElimiShield HUNT CORE Body Foam is the industry's first FDA-compliant direct-to-skin scent control. The company will be giving away its 7 oz. bottles of Hunt CORE Body Foam ($12.99 value) in its booth, #1337, during the ATA Show January 9-11 in Indianapolis.
Ideal for hunting scent-control and everyday germ-control, CORE Body Foam works long term; it doesn't need to be reapplied constantly throughout the day like regular hand sanitizers because it bonds to the outer layer of the skin and is both sweat resistant and wash resistant. It continues killing odor-causing bacteria until your skin exfoliates, which is usually in three to five days. ElimiShield Core Body Foam is alcohol-free, scent-free and non-transdermal and contains Aloe Vera to moisturize the skin.
Stay healthier at the ATA show this year and for months beyond and stop by the ElimiShield booth, #1337 for a FREE 7 oz. bottle of the HUNT CORE Body Foam. (Available while supplies last.) Apply to hands and face a couple of times daily to help avoid the dreaded "CRUD."
ElimiShield CORE Body Foam will also be readily available in all public concession areas.
About ElimiShield Scent Control Technology
Human odor is caused by bacteria feeding on dead or dying skin cells. The patented, proprietary, nanotechnology formula in some of the ElimiShield HUNT products form a long-term bond when applied and leave a microscopically abrasive shield that eliminates odor-causing particles on contact. This mechanism is far superior to other methods that either poison bacteria or attempt to absorb human odors after they form. In addition to the nanotechnology, certain ElimiShield products include bio-based ingredients to neutralize malodors that are encountered in the field, ensuring all surfaces remain scent-free. Hunter Safety System, the industry leader in treestand safety, is the exclusive distributor of ElimiShield HUNT products to the outdoor industry. For information on this line, contact Hunter Safety System, 8237 Danville Road, Danville, AL 35619; call toll-free 256-773-7732; or visit www.ElimiShieldHunt.com.
Be sure to visit ElimiShield at ATA in booth #1337.
For high resolution images visit www.hunteroc.com or contact Kimi Herndon at kimi@hunteroc.com.