Hunter Communication Client List
Headquartered in Danville, Ala., Angler's Best is a designer and manufacturer of state-of-the-art fishing accessories.
The patented, proprietary, nanotechnology formula in ElimiShield HUNT Core Body Foam was originally developed for disease and infection control in the healthcare and institutional environments.
The technology also proves to eliminate odors, as the complex ElimiShield molecule bonds naturally to skin as well as most porous and nonporous surfaces. It leaves a microscopically abrasive shield that eliminates odor-causing particles on contact. This mechanism is far superior to other methods that either poison bacteria or attempt to absorb human odors after they form. In addition to the nanotechnology, certain ElimiShield products include bio-based ingredients to neutralize malodors that are encountered in the field, ensuring all surfaces remain scent-free. Hunter Safety System, the industry leader in tree stand safety, is the exclusive distributor of ElimiShield HUNT products to the outdoor industry. For information on this line, contact Hunter Safety System, 8237 Danville Road, Danville, AL 35619;
Call toll-free: (877) 296-3528 or visit www.ElimiShieldHunt.com.
German Precision Optics was founded on the premise that design, engineering and quality management is 100 percent controlled in Germany to its strictest standards, yet products can be produced at some of the largest production facilities around the world.
This unique corporate structure allows GPO to offer the highest quality products with better features at a significantly better price. The company is 100% confident that all of its products will not only function perfectly, but will exceed all expectations. Therefore, GPO, USA has created an industry-leading Spectacular Lifetime Warranty™. With outstanding professional service, GPO USA will take care of its products before, during, and after the purchase at no charge—EVER. Founded in 2016, GPO has it U.S. headquarters in Richmond, Va. For more information on GPO, USA, visit www.gpo-usa.com, or Call: (844) MYB-INOS.
Located in the heart of Wyoming, Hi Mountain Seasonings was founded in 1991. It is the premier manufacturer of kits for homemade jerky and sausage.
Hi Mountain Seasonings has successfully captured distinct, traditional Western flavors in its Jerky Cure & Seasonings, Western Style Seasonings, Bacon cures and other products that make up the unique line of gourmet Western seasonings. In 2011, Hi Mountain Seasonings introduced a line of delicious freeze-dried Camping Meals. For additional information, write: Hi Mountain Seasonings, 1000 College View Drive, Riverton, WY 82501;
Call toll-free: 1 (800) 829-2285 or visit the company website at www.himtnjerky.com.
The Online Holiday Sportsman Show is a property of Vexpo Marketing, based in Missouri.
Vexpo Marketing develops digital products designed to serve outdoor activities and outdoor consumers, including businesses and organizations that provide goods and services for outdoor recreation. The Holiday Sportsman Show was created to provide a digital platform to provide cost-effective digital marketing for outdoor companies and enjoyable online content for buying consumers.
Founded in 2001 and headquartered in Danville, Alabama, Hunter Safety System is a leading designer and manufacturer of innovative deer hunting gear and hunting equipment for the serious hunter.
Headquartered in Brookville, Pa., Koola Buck is a leading designer and manufacturer of portable refrigeration systems, meat hooks, anti-microbial game bags and game-processing videos.
Odin Lure Company, which initially began as the Ozzie Jig in 2012, is re-entering the fishing market this year with a new name, new and larger US manufacturing facilities new owners and a full lineup of new products.
Founded in 1988 and headquartered in Denver, Colo., Outdoor Edge is a leading designer and manufacturer of knives and tools.
Today, Outdoor Edge continues to innovate and develop state-of-the-art products, not only for the outdoor enthusiast and game processor, but everyday carry tools for survivalists, handymen and others that require or want the very best knives available for their leisure, work and everyday carry needs. The company prides itself in offering a variety of products that undergo extensive field-testing in harsh, rugged environments resulting in durable, long lasting products that come with a lifetime guarantee. For additional information on Outdoor Edge and its full line of products write to: Outdoor Edge, 5000 Osage Street, Suite 800, Denver, CO 80221;
Call toll-free: (800) 477-3343; email moreinfo@outdooredge.com; or visit www.outdooredge.com.
BROOKVILLE, PA. (June 25, 2019) — For decades, broadhead engineers have come up with many different gadgets—from O-rings, to plastic collars and even rubber bands—to retain the blades of mechanical broadheads, but those items are often the cause of failure, either in flight or upon impact.
The new Spectre Broadhead solves the problem through magnetism. Spectre's patent-pending, revolutionary magnetic-blade technology holds the blades closed throughout arrow flight, but upon impact, the blades are guaranteed to open instantly for a failureproof deployment that results in massive entry and exit wounds.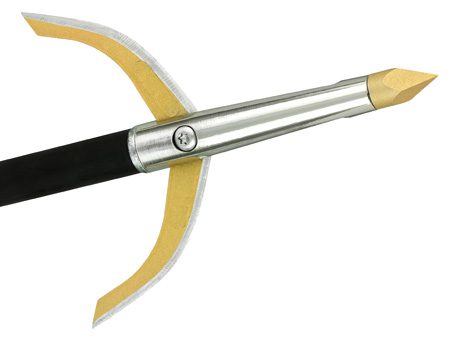 The Spectre Broadhead was designed to fly like a field point, and it features a strong, aerodynamic, machined 7075-aluminum ferrule with a hardened-carbon-steel four-face chisel tip that provides extremely reliable penetration through hide, flesh and bone. The Spectre Broadhead has thickest, strongest blades of any expandable broadhead on the market.
The pair of 0.047-inch-thick razor-sharp, swept-back blades are magnetized to hold them together until the moment of impact, when they reliably deploy to cut a path of destruction. The chisel tip and blades have a gold Cerakote finish for lubricity and wear resistance.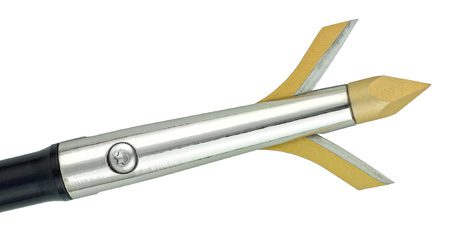 The new Spectre Broadhead is available in two versions—a 100-grain with a 2-inch cutting diameter, and a 125-grain version that boasts an impressive 2.25-inch cutting diameter. Each three-pack of broadheads comes with a practice head and an extra set of sharp blades, ultimately providing four broadheads for the price of three. Spectre Broadheads will be available in July and have a suggested retail price of $44.99.
In 2007, San Antonio native Tom Snyder founded Trinity Oaks, a 501(c)(3) nonprofit organization, on the premise that active participation in the outdoors is a powerful, healing, and fundamentally life-changing experience.
The organization's mission is to use hunting, fishing and outdoor activities to make a meaningful difference in the lives of underprivileged kids, terminally ill children and combat veterans. Each year, Trinity Oaks offers at least 50 events at no expense to those who can benefit from once-in-a-lifetime hunting or fishing experiences. For more information on Trinity Oaks, visit www.trinityoaks.org, or Call: (210) 447-0351.
For nearly two decades, Viper Archery Products has been a well-known name in the archery industry for offering premium-performance products in a wide variety of categories, including Driver Series sights and scopes, Venom sights, SX Hunter and Viper stabilizers.
The company manufactures and assembles all of its products in the U.S. New to the Viper Archery Products lineup in 2019 is the Spectre broadhead that features revolutionary magnetic-blade technology that holds blades closed until impact. Soon to debut will be drop-away arrow rests, quivers and releases. The company is a wholly-owned subsidiary company of Koola Buck, an industry leader in state-of-the-art meat-processing products and the inventor of the Koola Buck portable refrigeration system. The manufacturing facility for all Viper Archery Products is located in South Point, OH. For additional information on the company and its products, Call: (740) 894-6100 or visit www.viperarcheryproducts.com.
Founded in 2019 and headquartered in Kinnear, Wyo RAD, LLC is a leading designer and manufacturer of innovative products for the outdoor industry, including the Bow Spider brand of products.
Bow Spider's intuitive design makes bow retrieval fast and easy in any situation. The product is proudly made in the USA and gives one percent of all sales to conservation. The company also offers veterans a 15 percent discount on all products. (To take advantage of this offer, orders need to be called in directly to the company at (307) 438-9290.) For additional information on RAD, LLC and the Bow Spider brand of products write to: RAD, LLC, PO Box 171, Kinnear, WY 82516; call (307) 438-9290; email info@bowspider.com; visit www.bowspider.com.