NEWS RELEASE
FOR IMMEDIATE RELEASE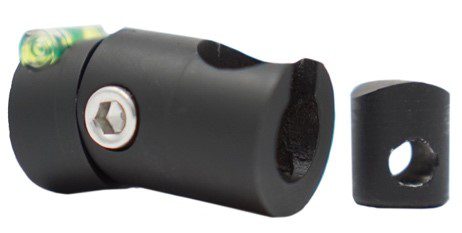 BROOKVILLE, Pa. (May 19, 2020) — Quick disconnect stabilizer attachments have become standard fare for serious target archers, as well as many bowhunters. With Viper Archery's new Tailor, you now have a one answer solution in a single angle adjustable unit designed for a lifetime of use tailored to your individual needs.
The Tailor is fully machined from 6061-T6 aluminum with an anodized finish, and is angle adjustable for 0, 5,10, 15 and 20 degrees of offset, allowing you unsurpassed versatility to make adjustments as necessary without changing your bow's disconnect and offers locking teeth for a super-secure locking fit. It also features a bubble level to ensure proper mounting installation. It comes with a matching barrel nut, and features a 1-inch outside diameter for a flush fit with all Viper stabilizers. It weighs just 1.85ounces.
The Tailor is a one answer solution for hunters and target archers. All Viper Archery products are manufactured in the USA and carry the company's limited lifetime warranty. The Tailor will be available August 2020 for a suggested retail price of $49.99. More information is available at www.viperarcheryproducts.com.
About Viper Archery Products
Viper Archery Products is a wholly owned subsidiary of Koola Buck. Headquartered at 494 Service Center Rd. in Brookville, Pa., Viper Archery has been proudly manufacturing top-quality U.S.-made archery sights and accessories at its South Point, Ohio facility for more than 15 years. For more information on Viper Archery, visit viperarcheryproducts.com.
Editorial Contact:
Karen Lutto
(210) 451-9113 (office)
(804) 539-6699 (cell)
HOC Website: www.hunteroc.com