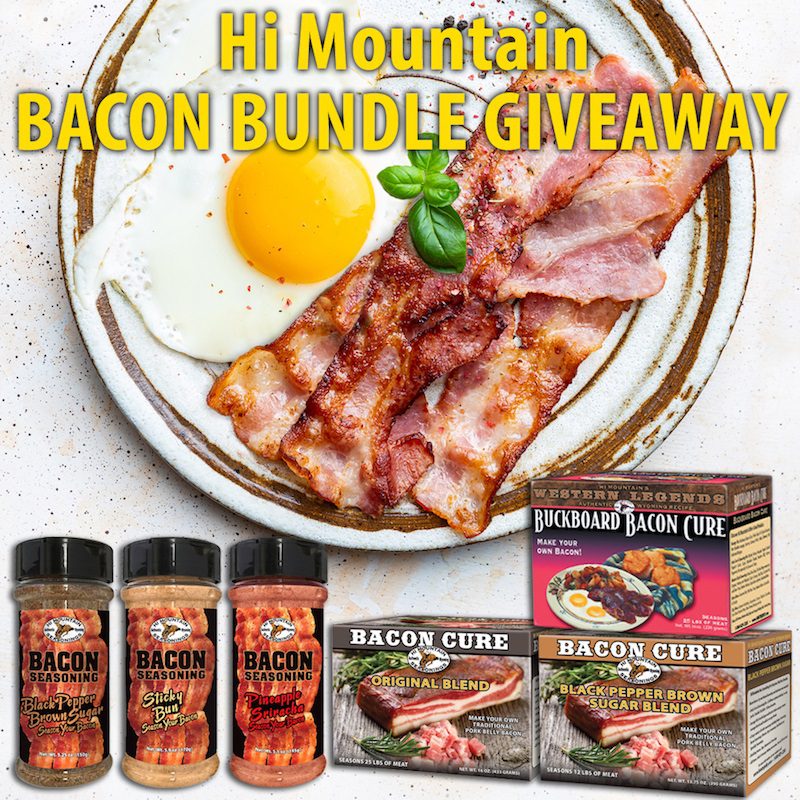 NEWS RELEASE
FOR IMMEDIATE RELEASE
RIVERTON, Wyo. (July 29, 2020) —Hi Mountain Seasonings, the flavor leader in jerky and seasonings, announced the launch of its "Bacon Bundle Giveaway" promotion today. One lucky winner will walk away with all things bacon, including Hi Mountain Seasonings Buckboard Bacon Cure, Original Bacon Cure, Black Pepper & Brown Sugar Bacon Cure, Sticky Bun Bacon Seasoning, Pineapple Sriracha Bacon Seasoning and Black Pepper & Brown Sugar Bacon Seasoning.
Entering to win is simple. Simply go to the Hi Mountain Seasonings Facebook page, and click on the promotion or just CLICK HERE. When prompted, fill in your name and email address and you are entered. One entry per person. All entries must be completed by midnight on August 20th. Winners will be announced on the website and notified via email.
Everyone loves bacon. Don't miss this opportunity to make your own bacon, or add a new flavor to existing bacon with Hi Mountain Seasonings three great seasoning flavors!
About High Mountain Seasonings:
Located in the heart of Wyoming, Hi Mountain Seasonings was founded in 1991. It is the premier manufacturer of kits for homemade jerky and sausage. Hi Mountain Seasonings has successfully captured distinct, traditional Western flavors in its jerky cure & seasonings, Western-style seasonings, bacon cures and other products that make up the unique line of gourmet Western seasonings. For additional information, write: Hi Mountain Seasonings, 1000 College View Drive, Riverton, WY 82501; call toll-free 1 (800) 829-2285; or visit the company website at www.himtnjerky.com.
# # #
Editorial Contact:
Karen Lutto
(210) 451-9113 (office)
(804) 539-6699 (cell)
karen@hunteroc.com
www.hunteroc.com