NEWS RELEASE
FOR IMMEDIATE RELEASE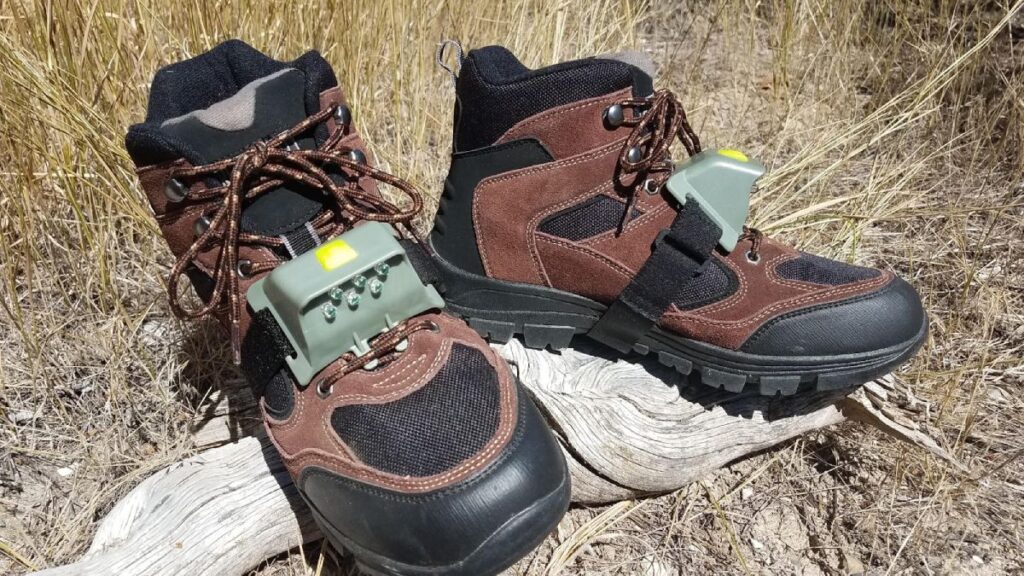 SALMON, Idaho (Sept. 7, 2020) — SneakyHunter Hikers Bootlamps – essentially, headlamps for your feet – eliminate many of the problems with conventional headlamps and hand-held flashlights. When wearing a headlamp, talking to your companions becomes an issue when you face them and inadvertently blind them by shining your light directly into their eyes, destroying their night vision for up to 45 minutes. Also, many hikers face depth perception issues when using a light source above the waist.
SneakyHunter Hiker Bootlamps are a unique invention, not a knockoff of a product already on the market, and are perfect for a myriad of outdoor activities by providing new solutions to common problems experienced with headlamps and flashlights. They stabilize your visual perception by keeping the light low to the ground. They place your lighting as far from your face as possible, offering more relief on your eyes. The lights operate using three AAA batteries and have three settings – white, for general hiking; red, for hiking with a soft light that will not spook animals; and green, which offers less eyestrain over time. You activate them by simply pushing the button on top – one click for white, two clicks for red, three clicks for green. The lid is rated as highly water resistant. They're attached to your boot via an easy-to-use 18-inch long, 1-inch wide elastic cinch strap. The hook and loop strap is placed under your instep, and the two prongs on the front of the unit are slipped under your boot or shoelaces, resulting in a slip-proof attachment. The unit is made so that when it is mounted in the proper position, the light will shine where you'll be walking.
Originally designed to be put directly on the boot, the SneakyHunter Bootlamps also work well when strapped on the knees. This directs the light where you are walking and is ideal in situations when walking in water, snow or other inclement ground situations.
Avid outdoorsmen and entrepreneurs Jim and Annette Manroe wondered why isn't there a lighting system that solves the obvious problems with headlamps and flashlights? It was when he was reviewing the reason he often spooked elk when hiking in the dark that Jim had an idea. "SneakyHunter Bootlamps were first conceived when I spent time in the offseason reviewing my unsuccessful hunts," Manroe said. "I realized there were missed opportunities from my headlamp illuminating the eyes of big game, or generally disturbing them with scattered light when I inadvertently flashed them." The solution? A lighting system that allowed Jim to turn his head without shining his light in that direction.
Whether you're hiking up and down the mountain or along the trail, going for your morning walk before dawn, walking your dog, gathering firewood, or any other in-the-dark outdoor activity, SneakyHunter Hikers Bootlamps are the perfect lighting solution. One creative customer even uses them while snowshoeing in the dark, while another wears hers as an armband when walking her dog so that approaching vehicles can easily see her.
Made in the USA, available colors include white, red, and green (Hikers Bootlamps), and white, red, and violet (Hunters Bootlamps.) MSRP is $59.99 for two bootlamps, and they come with a one year limited warranty. More information is available at www.sneakyhunter.com.
SPECS
Bulb Type: 5mm LED
Bulb Detail: x6 LED (2 each mode)
Beam Type: Flood
Max Light Output: 40 Lumens per Bootlamp
Max Beam Distance (feet): 50 meters
Modes: White, Red, Green,
Average Run Time: 70 hours
Batteries: 3 AAA each (not included)
Dimensions: 2.875" wide x 2.0" long x 1.75" high
Weight with batteries: 2.7 oz. each
About SneakyHunter
Founded in 2019 and headquartered in Salmon, Idaho, SneakyHunter offers state-of-the-art boot lamps that are perfect for hunting, hiking and other outdoor activities. These boot lamps provide solutions unseen before with conventional lighting, including three separate, hands-free lighting modes including white, red and a particular wavelength in the violet spectrum of light that causes blood to stand out so it can easily be tracked in the dark. For more information on SneakyHunter visit www.sneakyhunter.com; call 208-742-0083 or write to SneakyHunter, 10 Kelly Road, Salmon, ID 83467.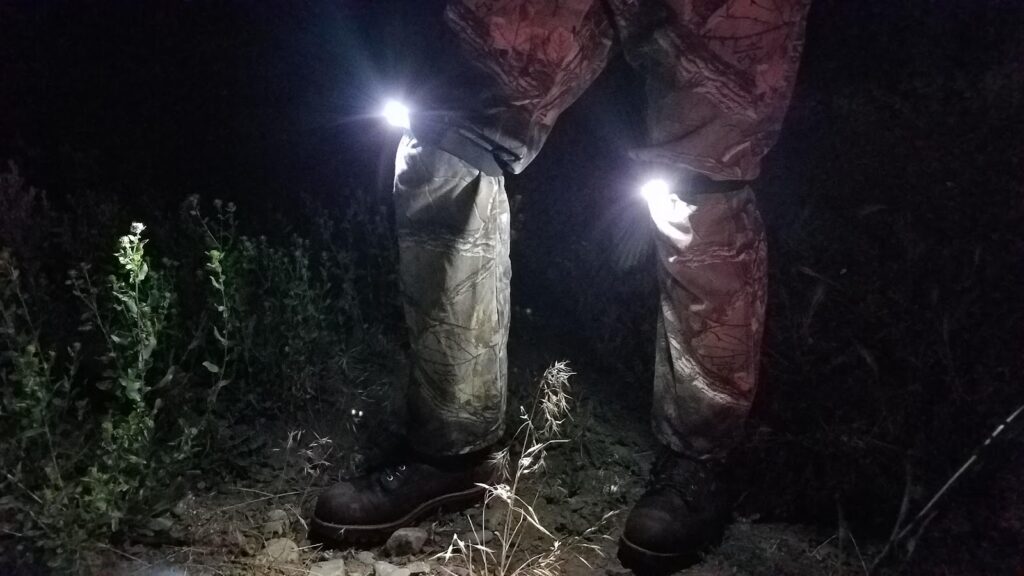 # # #
Editorial Contact:
Karen Lutto
(210) 451-9113 (office)
(804) 539-6699 (cell)
karen@hunteroc.com
HOC Website: www.hunteroc.com