NEWS RELEASE
FOR IMMEDIATE RELEASE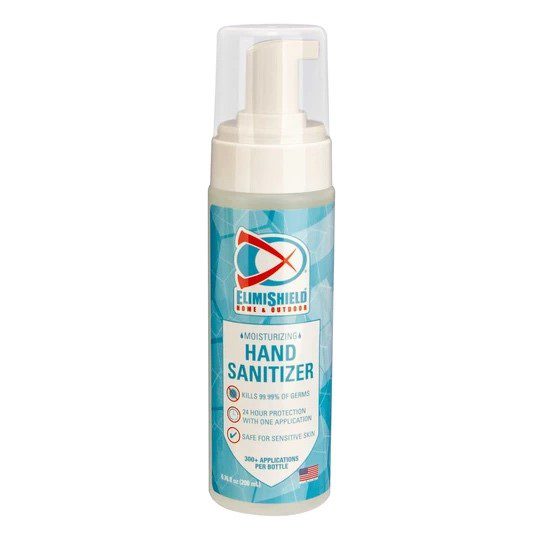 Danville, Ala. (Nov. 18, 2020) — From the company that brought you the industry's first FDA-compliant, direct-to-skin scent control, ElimiShield now offers that same proprietary technology that kills 99.99 of germs, in a fresh smelling, alcohol-free, moisturizing hand sanitizer.
Being that it is alcohol free, the new ElimiShield Home & Outdoor Hand Sanitizer helps prevent over-drying of hands that can leave them susceptible to infection. In fact, the company has taken extra measures to protect the hands and has added aloe vera to keep hands soft and moisturized. For a more pleasurable experience, a fresh citrus scent has also been added to the formula.
Unlike other hand sanitizers on the market, the ElimiShield product does not soak into the blood system. It also doesn't need to be reapplied constantly throughout the day like regular hand sanitizers because it bonds to the outer layer of the skin and is both sweat resistant and wash resistant.
"ElimiShield is a trusted name in the scent and germ control," said Tommy Lancaster, COO. "We offer the very best products on the market that stop the spread of germs and our new Home & Outdoor Hand Sanitizer is ideal for everyday use by virtually everybody."
The new ElimiShield Home & Outdoor Sanitizer is available at retailers nationwide and conveniently online at www.hssvest.com and Amazon. The suggested retail price is $12.99 standard 200 ml size or $5.99 for the convenient 50 ml travel size.
About ElimiShield Scent Control Technology
Human odor is caused by bacteria feeding on dead or dying skin cells. The patented, proprietary, nanotechnology formula in some of the ElimiShield HUNT products form a long-term bond when applied and leave a microscopically abrasive shield that eliminates odor-causing particles on contact. This mechanism is far superior to other methods that either poison bacteria or attempt to absorb human odors after they form. In addition to the nanotechnology, certain ElimiShield products include bio-based ingredients to neutralize malodors that are encountered in the field, ensuring all surfaces remain scent-free. Hunter Safety System, the industry leader in treestand safety, is the exclusive distributor of ElimiShield HUNT products to the outdoor industry. For information on this line, contact Hunter Safety System, 8237 Danville Road, Danville, AL 35619; call toll-free (256) 773-7732; or visit www.ElimiShieldHunt.com.
# # #