NEWS RELEASE
For Immediate Release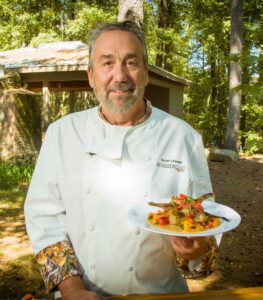 RIVERTON, Wyo. (March 1, 2021) — Hi Mountain Seasonings, renowned for the world's best jerky and sausage making kits, is pleased to announce it has renewed its partnership with Scott Leysath and The Sporting Chef for the 10th consecutive year.
Airing on the Sportsman Channel, The Sporting Chef informs viewers how to transform anything fur, fins and feathers into delicious table fare in what's been called "the fastest half-hour on outdoor television." Veteran wild game cooking expert Scott Leysath leads a pack of professional and home chefs, cookbook authors and outdoor experts on a quest to discover the best recipes, tips and techniques that will make the most of your fish and game from field to table. Each week, Chef Leysath is joined by an engaging and diverse group of contributors from award-winning fine dining chefs to down home rednecks. From trophy antlered game to a cooler full of catfish, The Sporting Chef shows the way to make it all taste great – with the help of Hi Mountain Seasonings.
"I'm often asked if I use Hi Mountain Seasonings in my 'normal' life. If you look in my pantry, it's all Hi Mountain. My wife, who rarely cooks, can't get enough of the Salmon Rub. The citrus flavors pair perfectly with any fish or light-fleshed upland game, like grilled quail. Before I even think about how I'm going to prepare a duck or goose, I brine them with Hi Mountain Game Bird and Poultry Brine. It is a true game-changer that infuses brine into the meat, makes it moister and mellows out even darker-fleshed divers without compromising the natural flavor of the meat," said Chef Leysath."I can't imagine cooking without my Hi Mountain Seasonings," he concluded.
Join The Sporting Chef each week on the Sportsman Channel as he takes the daily harvest and transforms it into a mouth-watering meal. The show can be seen on Thursday at 3:30 AM EST, Friday at 12:30 PM EST and Sunday at 1:00 PM EST.
Hi Mountain's entire line of products, cooking tips, instructional videos and recipes are also available at www.himtnjerky.com. Hi Mountain products also can be found at high-end sporting-goods stores, farm-and-ranch stores and many local grocery stores.
Located in the heart of Wyoming, Hi Mountain Seasonings was founded in 1991. It is the premier manufacturer of kits for homemade jerky and sausage. Hi Mountain Seasonings has successfully captured distinct, traditional Western flavors in its jerky cure & seasonings, Western-style seasonings, bacon cures and other products that make up the unique line of gourmet Western seasonings. For additional information, write: Hi Mountain Seasonings, 1000 College View Drive, Riverton, WY 82501; call toll-free 1-800-829-2285; or visit the company website at www.himtnjerky.com.
# # #
Editorial Contact:
Karen Lutto
(210) 451-9113 (office)
(804) 539-6699 (cell)