NEWS RELEASE
For Immediate Release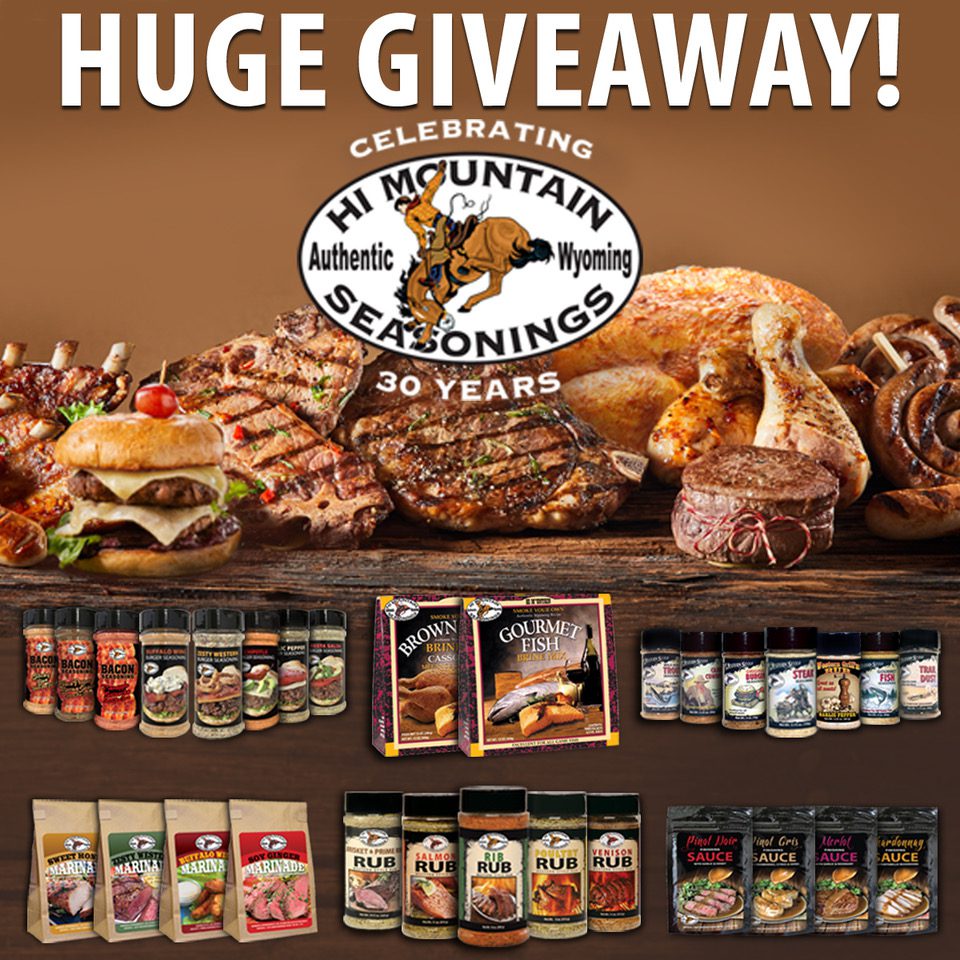 RIVERTON, Wyo. (March 19, 2021) — In honor of its 30th Anniversary this year, Hi Mountain Seasonings is kicking off the year-long celebration today with a huge giveaway. Thirty lucky winners will walk away with a bundle of 30 Hi Mountain Seasonings authentic Western Seasonings in the "Hi Mountain 30 Year Anniversary Giveaway."
This Anniversary Giveaway starts today and runs through April 30th. Entering to win is simple. Simply go to the Hi Mountain Seasonings Facebook Page and click on the promotion or just Click Here. When prompted, fill in your name and email address and you are entered into the contest. One entry per person, but you can gain more entries by sharing the contest. When you enter the contest you will be given a unique URL. When a new participant enters the Giveaway via that unique URL the originator will be awarded three extra entries into the contest.
The 30 lucky winners of the "Hi Mountain 30 Year Anniversary Giveaway" will be notified via email. Be sure to join in the anniversary celebration and enter the contest!
This is just one of many 30 Year Anniversary specials that Hi Mountain Seasonings will be promoting this year. Be sure to check the Hi Mountain Seasonings Facebook page and website frequently to learn about other exciting giveaways and specials.
Hi Mountain's entire line of products, cooking tips, instructional videos and recipes are also available at www.himtnjerky.com. Hi Mountain products also can be found at high-end sporting-goods stores, farm-and-ranch stores and many local grocery stores.
Located in the heart of Wyoming, Hi Mountain Seasonings was founded in 1991. It is the premier manufacturer of kits for homemade jerky and sausage. Hi Mountain Seasonings has successfully captured distinct, traditional Western flavors in its jerky cure & seasonings, Western-style seasonings, bacon cures and other products that make up the unique line of gourmet Western seasonings. For additional information, write: Hi Mountain Seasonings, 1000 College View Drive, Riverton, WY 82501; call toll-free 1-800-829-2285; or visit the company website at www.himtnjerky.com.
The Hi Mountain 30 Year Anniversary includes 30 Hi Mountain Authentic Western Seasonings:
| | | |
| --- | --- | --- |
| Original Steak Seasoning | Brisket Rub | Brown Sugar Brine Kit |
| Cajun Cowboy | Rib Rub | Gourmet Fish Brine Kit |
| Trail Dust | Salmon Rub | Zesty Western Marinade |
| Original Burger Seasoning | Venison Rub | Soy Ginger Marinade |
| Western Grill'n Rub | Poultry Rub | Sweet Honey Marinade |
| Wild River Trout | Chipotle Burger Seasoning | Buffalo Wing Marinade |
| Gourmet Fish | Buffalo Wing Burger Seasoning | Merlot with Garlic & Rosemary Sauce |
| Pineapple Sriracha Bacon Seasoning | Fiesta Salsa Burger Seasoning | Chardonnay with Portabella Mushrooms Sauce |
| Sticky Bun Bacon Seasoning | Garlic Pepper Burger Seasoning | Pinot Gris with Cranberries, Citrus & Herb Sauce |
| Black Pepper Brown Sugar Seasoning | Zesty Western Burger Seasoning | Pinot Noir with Garlic & Honey Sauce |
Editorial Contact:
Karen Lutto
(210) 451-9113 (office)
(804) 539-6699 (cell)
karen@hunteroc.com
www.hunteroc.com