NEWS RELEASE
FOR IMMEDIATE RELEASE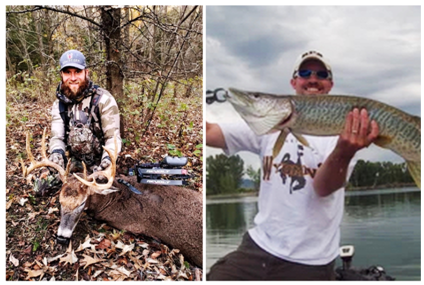 Kinnear, WY (April 14, 2021) — Bow Spider,the quickest and easiest bow retrieval system on the market, is pleased to announce it has renewed its partnership with RadCast Outdoors Podcast. In its thirdyear, RadCast Outdoors Podcast is dedicated to providing outdoor content, recruiting the next generation of hunters and anglers and helping to expand the knowledge of people who participate in those activities.
RadCast Outdoors podcast hosts, David Merrill and Patrick Edwards are authentic outdoor enthusiasts with extensive outdoor hunting and fishing experiences. They both spend as much time as possible outside pursuing the activities and hobbies they love most. David is an avid hunter and outdoorsman. Patrick is an avid angler and outdoorsman. The two in combination bring their audience the best outdoor podcast available. They cover a multitude of topics from fishing techniques, hunting strategy to in-depth looks at specific species. They host well known guests and also local experts to bring the viewers valuable information with every show.
New podcasts are posted regularly so be sure to visit: https://radcastoutdoors.com/pages/about-us or CLICK HERE. To sign up for regular RadCast Outdoors updates CLICK HERE.
About Recreational Archery Development LLC (RAD, LLC):
Founded in 2019 and headquartered in Kinnear, WY, RAD, LLC is a leading designer and manufacturer of innovative products for the outdoor industry, including the Bow Spider brand of products. Bow Spider's intuitive design makes bow retrieval fast and easy in any situation. The product is proudly made in the USA and gives one percent of all sales to conservation. The company also offers veterans a 15 percent discount on all products. (To take advantage of this offer, orders need to be called in directly to the company at (307) 438-9290.) For additional information on RAD, LLC and the Bow Spider brand of products write to: RAD, LLC, PO Box 171, Kinnear, WY 82516; call (307) 438-9290; email info@bowspider.com; visit www.bowspider.com.
Editorial Contact:
Karen Lutto
(210) 451-9113 (office)
(804) 539-6699 (cell)
karen@hunteroc.com
HOC Website: www.hunteroc.com