NEWS RELEASE
FOR IMMEDIATE RELEASE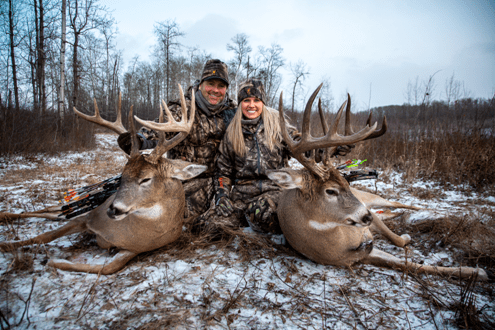 BROOKVILLE, Pa. (April 13, 2021) — Viper Archery Products, a company known for its premium-performance U.S.-made archery sights announced today that it has renewed it partnership with the award-winning Outdoor Channel show Driven with Pat & Nicole for the third consecutive year.
Now in its 18th season, Driven with Pat & Nicole continue to take its viewers on adventures in North America as they hunt big whitetails, the favorite species of this dynamic duo. Viewers also get to share in the husband-and-wife team's exciting adventures in remote areas around the world as they chase other exciting species of big game.
"We can't imagine hunting without the reliable, high-quality sights that Viper Archery offers," said show co-host Pat Reeve. "These products ensure that our archery hunts are even more successful and we are pleased that all of their products are proudly made right here in the USA."
Be sure to tune in for the exciting 2021 season of Driven with Pat & Nicole on the Outdoor Channel airing Tuesdays at 9:30 PM EST, Wednesdays at 4:30 AM EST and 8:00 AM EST, Thursdays at 5:30 PM EST and Sundays at 11:00 PM EST.
About Viper Archery Products
Viper Archery Products is a wholly owned subsidiary of Koola Buck. Headquartered at 494 Service Center Rd. in Brookville, Pa., Viper Archery has been proudly manufacturing top-quality U.S.-made archery sights and accessories at its South Point, Ohio facility for more than 15 years. For more information on Viper Archery, visit viperarcheryproducts.com.
Editorial Contact:
Karen Lutto
(210) 451-9113 (office)
(804) 539-6699 (cell)
HOC Website: www.hunteroc.com