NEWS RELEASE
For Immediate Release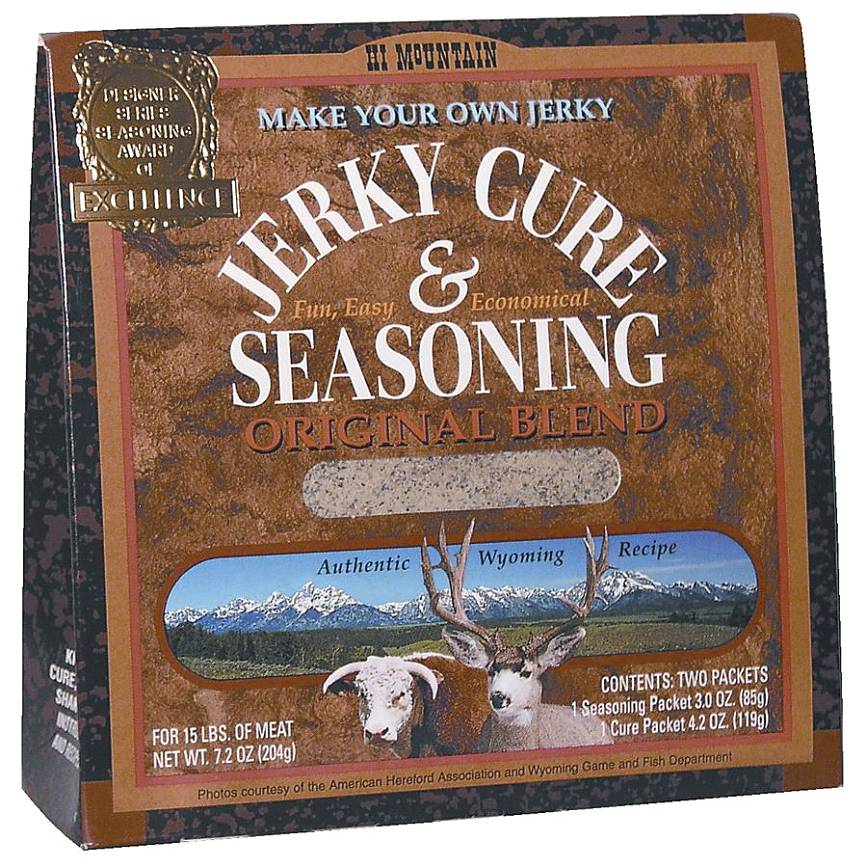 RIVERTON, Wyo. (June 30, 2021) — Have you ever wondered why modern-day moviemakers and recording artists seem to gravitate towards remakes of classic oldies? No matter how hard they tried, recent remakes of classic movies like Call of the Wild, King Kong, Murder on the Orient Express, West Side Story, and A Star is Born couldn't approach the magic of the original versions. Various recording artists have tried to recapture the enchantment of the Beatles original version of "Yesterday," John Lennon's "Imagine," and Judy Garland's "Somewhere Over the Rainbow," but they always seem to fall just a little bit short.
The same can be said of jerky recipes. While today you can find all manner of different jerky flavors and seasoning combinations, when it comes right down to it, nothing beats the original – Hi Mountain Seasonings Original Blend Jerky Cure & Seasoning.
This classic is the same original blend of salt, spice, garlic powder and spice extractives, soy sauce powder, and less than 2 percent soybean oil (refined to be allergen free) and silicon dioxide to prevent caking, and a cure of salt, sugar, sodium nitrite (.85%), and caramel color HMS founder and local Riverton legend, Dean Clark, blended and began selling back in 1991. It remains the company's most popular blend for one simple reason – it was created so you can make the world's greatest homemade jerky, and it delivers on the promise. It can be used equally well with beef, wild game, poultry, fish, or any other meat you choose.
Each regular size Hi Mountain Seasonings Original Blend Jerky Kit contains one package of cure, one package of seasoning – enough for 10 lbs. of ground meat or 15 lbs. of whole muscle meat– along with a shaker bottle for easy mixing, and detailed instructions. MSRP is $8.49.
Hi Mountain Seasonings — America's leading provider of meat and fish seasonings; jerky, sausage, and snackin' stick kits; dressings & dips; and much more — is celebrating the company's 30th year in 2021. To help celebrate, Hi Mountain Seasonings is offering several Limited Edition items available throughout the year on the company's website. For more information on the entire line of Hi Mountain Seasonings' seasonings; jerky, sausage, and snackin' stick kits; dressings & dips; free mouth-watering recipes, and more, visit https://himtnjerky.com/.
Editorial Contact:
Karen Lutto
Hunter Outdoor Communications
(210) 451-9113 (office)
(804) 539-6699 (cell)
karen@hunteroc.com
HOC Website: www.hunteroc.com