NEWS RELEASE
FOR IMMEDIATE RELEASE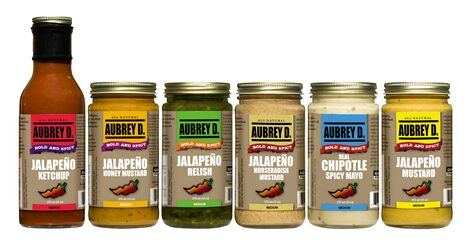 Montreal, Quebec, Canada (June 24, 2021) — Fourth of July weekend is fast approaching, and you'll be grilling some burgers, hot dogs, and chicken for family and friends while celebrating the birth of America. This Independence Day let's celebrate with a firework of taste in your mouth by topping your meal with Aubrey D.'s Gourmet Condiments from Gourmet Chips and Sauces.
Each item in the gourmet line of Aubrey D's line incorporates the intense and lingering bite of the jalapeno pepper, along with ingredients such as ripe, juicy farm-fresh tomatoes; fresh, perfectly-ripened cucumbers; and its own special blend of mustard seed, spices, and top-quality vinegars. All of Aubrey D.'s Gourmet Condiments start with the freshest ingredients, all of which are selected at local markets. Then, these gourmet condiments are prepared in small batches to ensure the highest quality and allow the full-bodied flavors, vibrant colors, and mouth-watering aromas time to develop into a perfection seen only in homemade foods.
Choose from Jalapeno Ketchup, a zesty tomato-based ketchup with just enough "heat" to liven up the flavor of any food; Jalapeno Relish, a mix of perfectly-ripened cucumbers and jalapeno peppers along with a mix of top-shelf spices and vinegars; Jalapeno Mustard, superb blend of mustard seed, spices and vinegar with just enough jalapeno to spice things up; and Jalapeno Honey Mustard, the added touch of honey with jalapeno adds great flavor to our fabulous mustard blend. And how about Aubrey D. Real Chipotle Mayo, made with farm-fresh eggs and morsels of the finest chipotle peppers? It's low in saturated fat and cholesterol and contains no trans fats.
Gourmet Chips and Sauces also offers a full line of Aubrey D. Rebel™ Hot Sauces, the only full line of hot sauces in the world where each sauce is designed around the unique flavors and heat of each individual pepper, and much more. Originally an import/distribution business founded in 2004 in Montreal, Canada, Gourmet Chips & Sauces soon morphed into a specialty company that creates and manufactures its own brand of Aubrey D. and Aubrey D. Rebel™ Hot Sauces, Hot Condiments and Hot Snacks. Today the company offers a full line of all natural kosher hot sauces from mildly hot to obscene, as well as an amazing line of all natural spicy condiments including Jalapeno Ketchup, Jalapeno Honey Mustard, Relish, Horseradish Mustard, Chipotle Mayo; fiery Snack Dips; and the hottest potato chips available. All the company's products are proudly made in the USA in order to be closest to the farms that grow the fruits, vegetables and hot peppers for its sauces, helping ensure the highest quality, best tasting and the hottest sauces on the market. All its potato chip snacks are made in the USA, kettle-cooked in sunflower oil with no trans-fat, are kosher and gluten free with no preservatives or additives and have a one-year shelf life.
Gourmet Chips and Sauces has been recognized as among the best specialty food companies in the specialty food marketplace. For more information, http://www.gourmetchip.com/ or CLICK HERE, and follow us on Facebook to stay abreast of the latest changes.
About Gourmet Chips & Sauces: Launched in 2004, Gourmet Chips and Sauces is a specialized food company, whose aim is to create, design, manufacture and distribute new and exciting gourmet Hot and Spicy Products. Today our Hot and Spicy Products are sold across Canada and the United States of America as well as in various countries in Europe and Asia. We have a wide selection of Hot and Spicy Products, from condiments to BBQ sauces, from exotic inspired sauces to everyday super-hot dips, from the best line of hot sauces to the hottest potato chips, we have everything for the chili head! All of our products are made to the highest standards, quality and taste. Many of our products are all natural, gluten free, contain no artificial ingredients or preservatives, and are kosher. Hot snacks, hot sauces and hot condiments have never been this good! More hot and exciting products are on the way.
Editorial Contact:
Karen Lutto
Hunter Outdoor Communications
(210) 451-9113 (office)
(804) 539-6699 (cell)
HOC Website: www.hunteroc.com