NEWS RELEASE
FOR IMMEDIATE RELEASE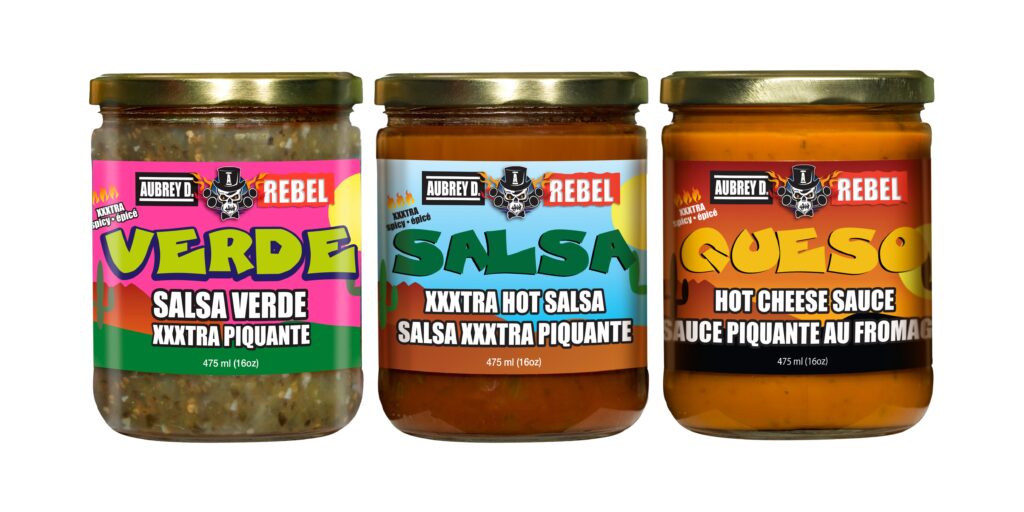 Montreal, Quebec, Canada (Sept. 7, 2021) ¾ Football season is finally here, and with it comes those much-anticipated tailgate and in-home parties. When it's your turn to host, you know you're trying to top anything your buddies can put together. The best way to do that is to bring the heat – and that means Aubrey D. Rebel's incomparable XXXtra Hot Salsa, Salsa Verde, Queso Hot Cheese Sauce, and all-natural spicy potato chips.
The XXXtra Hot Salsa is made using fresh tomatoes, onions, and, of course, hot peppers, for a deliciously mega-hot flavor that will make the tastiest, hottest nachos ever! Use with corn chips, as a dip, or to craft extra-spicy enchiladas. The Salsa Verde is centered around a fiery blend of tomatillos, serrano peppers, onions, roasted corn, habanero peppers, and cilantro. It's perfect for chip dipping, topping nachos, or drizzling over taquitos and tacos. The Queso Hot Cheese Sauce is a blend of creamy cheddar cheese, chipotle, onions, and tomatoes that can't be beat. This XXX Extreme cheese sauce is great as is or heated up, and is fantastic with chips, veggies, or for a gnarly batch of nachos.
Aubrey D. Rebel Chipotle Wing, Habanero, and Jalapeno White Cheddar Potato Chips are the ultimate hot, spicy, and tasty snacks.  These delicious kettle-cooked potato chips  go great with the dips and are based on a type of pepper and were inspired by Aubrey D. Rebel Hot Sauces. They're all natural, with zero trans-fat and zero cholesterol, gluten free and peanut free, and Kof-K kosher certified. They're always kettle cooked in sunflower oil for the healthiest, crispiest, and crunchiest chips ever. Handcrafted with choice habanero, chipotle and jalapeno peppers and Grade A choice potatoes, the state-of-the-art packaging keeps the chips fresh for a shelf life of up to one year.
What's a football party without some hot wings? Check out the recipe below to help you create the hottest, most flavorful hot wings ever using Aubrey D. Rebel Habanero Hot Sauce.
At Gourmet Chips and Sauces, we try very hard to keep our ingredients simple. As such we have products that have no preservatives, no additives, and no artificial ingredients.
These potent ready-to-eat dipping sauces are sure to please everyone – while they're running for the drink cooler to quench their thirst! It doesn't get any better – or hotter — than Aubrey D. Rebel Hot Dips & Chips. For your next football party, backyard barbecue, movie night, or fiesta, our perfectly-blended salsas and great-tasting dips will be sure to satisfy those who truly appreciate real heat. 
Aubrey D's Legendary Habanero Baked Wings
Ingredients:
3/4 cup all-purpose flour
1/2 teaspoon cayenne pepper
1/2 teaspoon garlic powder
1/2 teaspoon salt
20 chicken wings
1/2 cup melted butter
1 bottle of Aubrey D.'s Rebel Habanero Hot Sauce
Directions: Line a baking sheet with parchment paper. Place the flour, cayenne pepper, garlic powder, and salt into a resealable plastic bag, and shake to mix. Add the chicken wings, seal, and toss until well coated with the flour mixture. Place the wings onto the prepared baking sheet and refrigerate at least 1 hour. Preheat oven to 400 degrees F. Whisk together the melted butter and Aubrey D. Rebel Habanero Hot Sauce in a small bowl. Dip the wings into the butter mixture, and place back on the baking sheet. Bake in the preheated oven until the chicken is no longer pink in the center, and crispy on the outside, about 45 minutes. Turn the wings over halfway during cooking so they cook evenly. Serve with celery and carrot sticks along with blue cheese. Dip in additional Aubrey D. Rebel Hot Sauce if desired.
Gourmet Chips and Sauces has been recognized as among the best specialty food companies in the specialty food marketplace. For more information, visit www.aubreyd.net  or contact aubrey@gourmetchip.com, and follow us on Facebook and Twitter to stay abreast of the latest changes.
About Gourmet Chips & Sauces: Launched in 2004, Gourmet Chips and Sauces is a specialized food company, whose aim is to create, design, manufacture and distribute new and exciting gourmet Hot and Spicy Products. Today our Hot and Spicy Products are sold across Canada and the United States of America as well as in various countries in Europe and Asia. We have a wide selection of Hot and Spicy Products, from condiments to BBQ sauces, from exotic inspired sauces to everyday super-hot dips, from the best line of hot sauces to the hottest potato chips, we have everything for the chilihead! All of our products are made to the highest standards, quality and taste. Many of our products are all natural, gluten free, contain no artificial ingredients or preservatives, and are kosher. Hot snacks, hot sauces and hot condiments have never been this good! More hot and exciting products are on the way. Find us at www.aubreyd.net, sign up for our newsletter, follow us on Facebook and twitter to stay abreast of the latest changes, or contact us at aubrey@gourmetchip.com.
Editorial Contact:
Karen Lutto
Hunter Outdoor Communications
210-451-9113 (office)
804-539-6699 (cell)
HOC Website: www.hunteroc.com