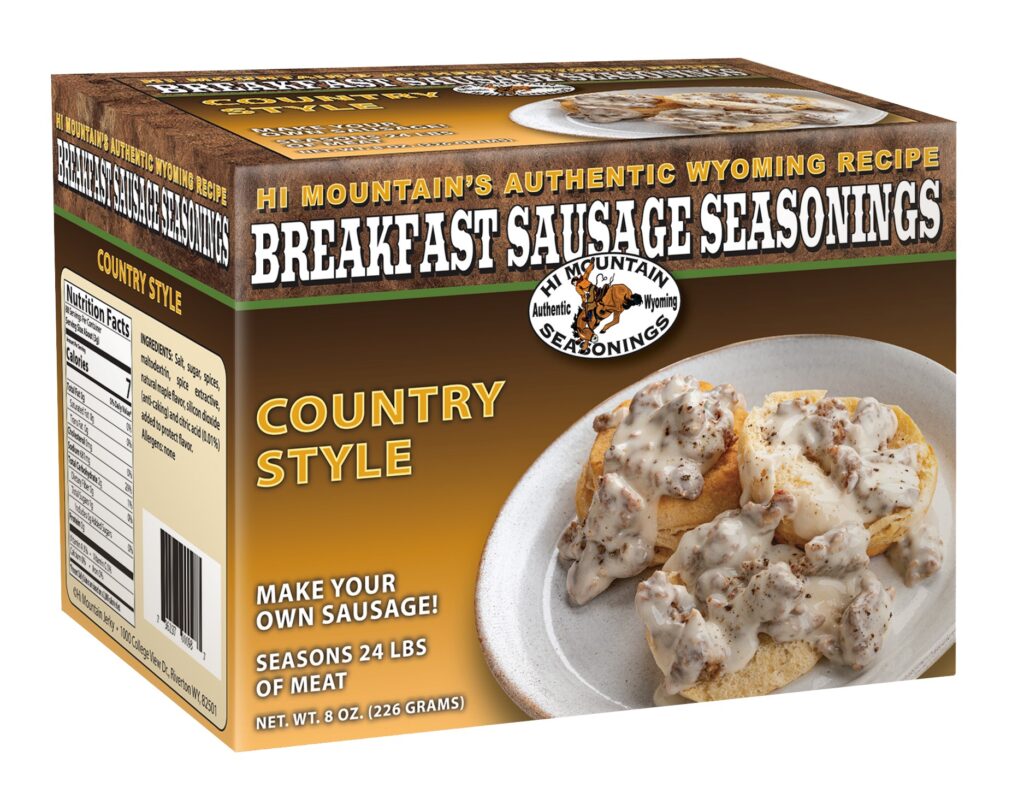 RIVERTON, Wyo. (Jan. 4, 2022) — Every family has a few select recipes that span generations. Certain foods hold a special place at the table and bring comfort and memories. Hi, Mountain Seasonings has been sharing its food traditions with families for more than three decades and will be doing so at this year's Archery Trade Show in Louisville, Ky.
On Saturday, January 8, 2022, Karen Lutto, Hi Mountain Seasonings PR representative, will be cooking and serving the company's new Country Style Breakfast Sausage in booth #2453 from 11:00 am – noon. With a hint of sage, as well as a bit of maple, the new Country Style sausage has the perfect blend of spices needed to satisfy your breakfast cravings. Like the other Hi Mountain breakfast sausages, the new Country Style can be mixed with fresh ground pork or any combination of pork, and beef or venison for an amazing breakfast addition.
You don't want to miss the opportunity to try this delicious breakfast sausage. While there, attendees will be able to see how easy it is to prepare and how incredibly tantalizing it is to your tastebuds.
In addition to the new Country Blend, Hi Mountain Seasonings offers breakfast sausage seasonings in Hunter's Blend, Prairie Sage, Chorizo Blend, Country Maple, Original Mountain Man Blend, and Sweet Italian flavors. The kits are all available at retailers nationwide or conveniently online at www.himtnjerky.com.
Hi, Mountain's entire line of products, cooking tips, instructional videos, and recipes are also available at www.himtnjerky.com. Hi, Mountain products also can be found at high-end sporting-goods stores, farm-and-ranch stores, and many local grocery stores.
Located in the heart of Wyoming, Hi Mountain Seasonings was founded in 1991. It is the premier manufacturer of kits for homemade jerky and sausage. Hi, Mountain Seasonings has successfully captured distinct, traditional Western flavors in its jerky cure & seasonings, Western-style seasonings, bacon cures, and other products that make up the unique line of gourmet Western seasonings. For additional information, write: Hi Mountain Seasonings, 1000 College View Drive, Riverton, WY 82501; call toll-free 1-800-829-2285, or visit the company website at www.himtnjerky.com.
Editorial Contact:
Karen Lutto
(210) 451-9113 (office)
(804) 539-6699 (cell)
karen@hunteroc.com
www.hunteroc.com