NEWS RELEASE
FOR IMMEDIATE RELEASE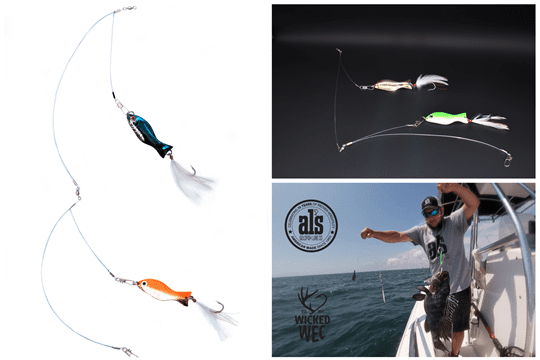 ELIOT, Maine (April 27, 2022) — The Al's Saltwater Series Goldfish is becoming a staple lure for anglers who use spoons as part of their saltwater arsenal. The Saltwater Series Goldfish have all the famous wobble and flutter of the original Goldfish that came to market 70 years ago, but they're bigger and rigged for saltwater species with a 3/0 single hook and use stainless components to better withstand saltwater corrosion.
Well-known as a casting and trolling lure, anglers have discovered that the Goldfish is also very productive when jigged for species that lay low on the bottom of the sea floor. In fact, Mike Wec, a brand ambassador for Al's Goldfish Lure Company who uses the full gambit of Al's lures for both freshwater and saltwater angling, took the application of jigging a single lure one step further and found another way to make that wobble successfully work for him.
"Mike, who's a New Englander native to Rhode Island, is known to his social media followers as 'Wicked Wec'. He is truly one of the best anglers I've ever met," said Al's owner, Jeff DeBuigne. "He saw the potential in using our spoons in a way that reduces his effort and makes the most of the water's current and the Goldfish's inherently designed action."
Mike started using his Saltwater Series Goldfish rigged on a double-drop mono, with a heavier Goldfish on bottom, and a lighter Goldfish on top. Using a weight at the bottom of the rig, he can customize where in the water column he wants to jig the rig. Wec sets up in a current, drops the rig, and the current itself flutters the Goldfish as the boat drifts. The flash and action of the Goldfish get the attention of bottom species in his region, such as fluke, black sea bass, and even tautog. As a result of Mike's ingenuity, Al's made a ready-to-fish product and named it after him, the Wicked Wec High-Low Rig. "It may be a bit of a mouthful, but when the company's name is Al's Goldfish Lure Company, nothing is too wordy, especially if it works and gives credit to our ambassador who promotes our products with such success," said DeBuigne. "Besides that, the Wicked Wec part is easy to remember."
Al's Wicked Wec High-Low Rig can be customized by selecting any 1/2 oz. and 3/4 oz. Saltwater Series Goldfish on Al's website, for $21.99. The lures will come with a 50 lb. mono ready-made double drop rig. When not jigging, the lures can be unsnapped from the rig and used singly for casting, trolling, or jigged individually. All these options make the Wicked Wec High-Low Rig an easy choice. See Mike and the Wicked Wec High-Low rig in action catching fluke here, and black sea bass here.
About Al's Goldfish Lure Company The company was launched in 1952 with a single pioneering spoon lure, known as Stuart's Goldfish, named after founder Al Stuart. The company's flagship lure was renamed Al's Goldfish in 1954, and by 1973 the popularity of the Goldfish lure soared to nearly one million lures sold in a year. Along the way, other popular lures, such as the Forty-Niner and Helgy, and hook bonnet lure accessories were added to the company's list of American-made products. In 2015 the line was expanded to include the Saltwater Goldfish series. In 2022, present owners Jeff and Mandy DeBuigne are celebrating the 70 year anniversary of the Goldfish lure. For more information on Al's Goldfish Lure Company visit www.alsgoldfish.com.
Editorial Contact:
Karen Lutto
(210) 451-9113 (office)
(804) 539-6699 (cell)