NEWS RELEASE
FOR IMMEDIATE RELEASE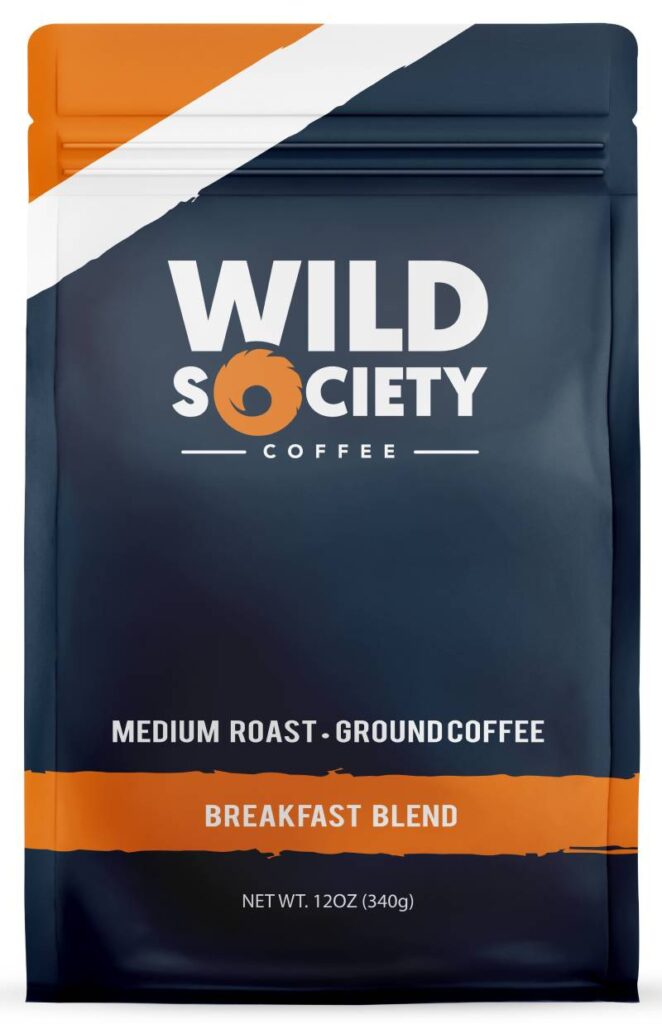 BOZEMAN, Mont. (April 6, 2022) — Wild Society Coffee Company – a company who believes a cup of coffee is a building block in the defining moments of the day – announces the company's first premium coffee product is now available To Fuel Your Experience™.Whether you are embarking on a once in a lifetime hunt, hiking the Continental Divide Trail or enjoying a quiet pot of coffee at home, Wild Society's Breakfast Blend is the coffee you can feel good about drinking every day.
The Wild Society Medium Roast Breakfast Blend ground coffee is made from a blend of specialty-grade coffees from Central and South America. This combination of natural and washed coffees gives this delicious coffee a balanced clean flavor and smooth rich body. You will taste notes of sweet caramel and scrumptious milk chocolate throughout your cup.
This premium coffee is blended with premium beans grown in Honduras and Brazil. The Honduran coffee in the Breakfast Blend is grown at an altitude between 3,200 – 4,300 feet (1,000 – 1,300 meters) above sea level by smallholder farmers in the Santa Rosa De Copan region of Honduras. The region is known for remarkable coffees with delicate sweet cocoa notes due to the rich soil composition, micro-climates, and altitudes, which are terrific for growing coffee. The Brazilian beans in this coffee are grown at 2,000 – 4,000 feet (600 – 1,200 meters) above sea level in a unique landscape of rolling hills in a micro-region of the eastern Minas Gerais state. This region is amongst the highest altitudes for coffee production in Brazil, and is famous for producing exceptionally complex, high-quality lots.
The premium whole coffee beans are shipped from these prudently selected areas to the United States where they are carefully processed in Plano, Texas.
"It took us years of travel, research and experimentation to source and manufacture what we believe is a better coffee from a better company," said Jeff Edwards, co-founder, Wild Society Coffee. "At Wild Society we are committed to providing our customers with the most enjoyable cup of coffee they will ever experience. We are also proudly working to manage, protect, and preserve our public lands and waters with the people that truly know them best and give back 20 percent of our profits to actionable conservation projects that put resources back into wild places. We invite you to join us in some on the tastiest coffee you'll ever sip, and in becoming a participant in the stewardship of our wild places and wild resources."
The 12 oz. bag ground coffee is available at www.wildsocietycoffee.com for a suggested retail price of $15.95. More information on both Wild Society Coffee's excellent coffee and its conservation efforts can be found on the company's website, www.wildsocietycoffee.com or by Clicking Here.
Headquartered in Bozeman, Montana, Wild Society Coffee is a community of adventurers, hunters and outdoor enthusiasts who have taken it upon themselves to bring better coffee, from a better company. From the Aliulik Peninsula on Kodiak Island to Carmen Island, Mexico and everywhere in-between; they spent countless days in desolate places never satisfied with the coffee they had until now. Additionally, twenty percent of all profits from both the coffee and apparel go directly to actionable conservation projects in North America. For more information on Wild Society Coffee, its products, and its conservation strategy visit www.wildsocietycoffee.com.
Editorial Contact:
Karen Lutto
(210) 451-9113 (office)
(804) 539-6699 (cell) 
HOC Website: www.hunteroc.com