NEWS RELEASE
FOR IMMEDIATE RELEASE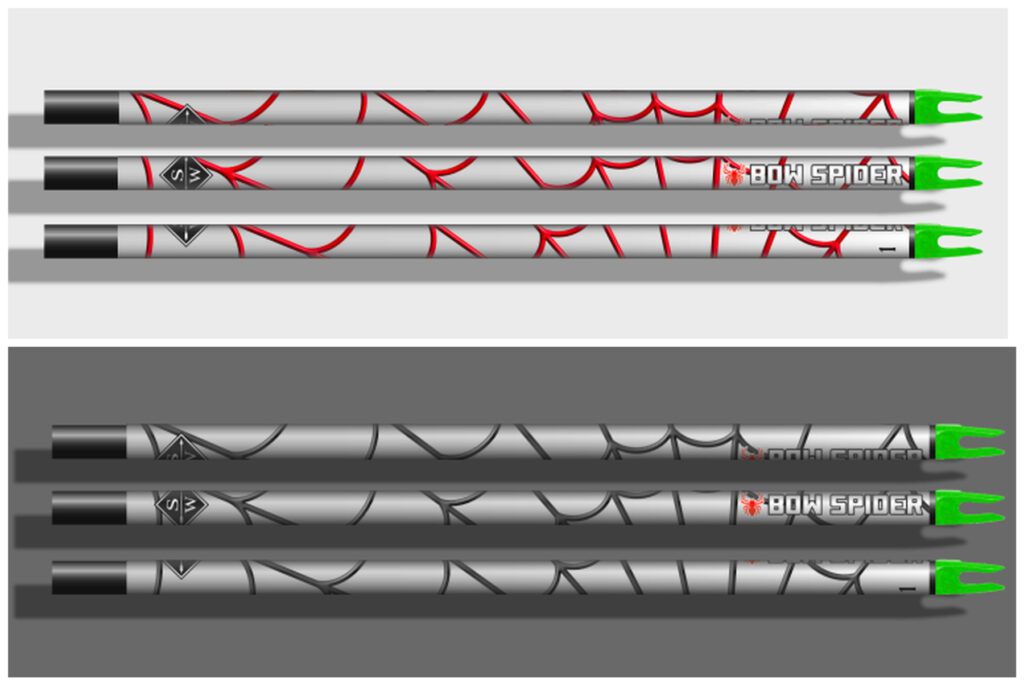 KINNEAR, Wyo.(April 18, 2022) – Give your arrows a new look with Bow Spider's custom design arrow wraps. The unique spider design on each wrap is available in either red or black and will draw attention and visibility to your arrows.
The Bow Spider wraps, made by State Wraps, are made in the USA and are 6 inches in length. They are carefully crafted from premium 2 mil cast vinyl, unlike conventional wraps that use a 4 mil "bumper sticker" material. The Mil references the thickness equal to 1/1000th of an inch. The Bow Spider wrap by State Wraps is half the thickness of conventional wraps and half the weight. Additionally, because the Bow Spider wrap uses a premium cast vinyl, the adhesive back allows air bubbles to escape as the wrap is applied. This results in better adhesion and performance than conventional wraps. These wraps are quality all the way around.
Whether you are looking for a flashier look to your arrows, increased visibility, easier fletching or all of the above, the Bow Spider Arrow Wraps are your answer. They are available exclusively online at www.bowspider.com. A dozen have a suggested retail price of $14.95. To order Click Here.
About Recreational Archery Development LLC (RAD, LLC): Founded in 2019 and headquartered in Kinnear, WY, RAD, LLC is a leading designer and manufacturer of innovative products for the outdoor industry, including the Bow Spider brand of products. Bow Spider's intuitive design makes bow retrieval fast and easy in any situation. The product is proudly made in the USA and gives one percent of all sales to conservation. The company also offers veterans a 15 percent discount on all products. (To take advantage of this offer orders need to be called in directly to the company at 307-438-9290.) For additional information on RAD, LLC and the Bow Spider brand of products write to: RAD, LLC, PO Box 171, Kinnear, WY 82516; call 307-438-9290; email [email protected]; visit www.bowspider.com.
Editorial Contact:
Karen Lutto
(210) 451-9113 (office)
(804) 539-6699 (cell)
HOC Website: www.hunteroc.com