NEWS RELEASE
FOR IMMEDIATE RELEASE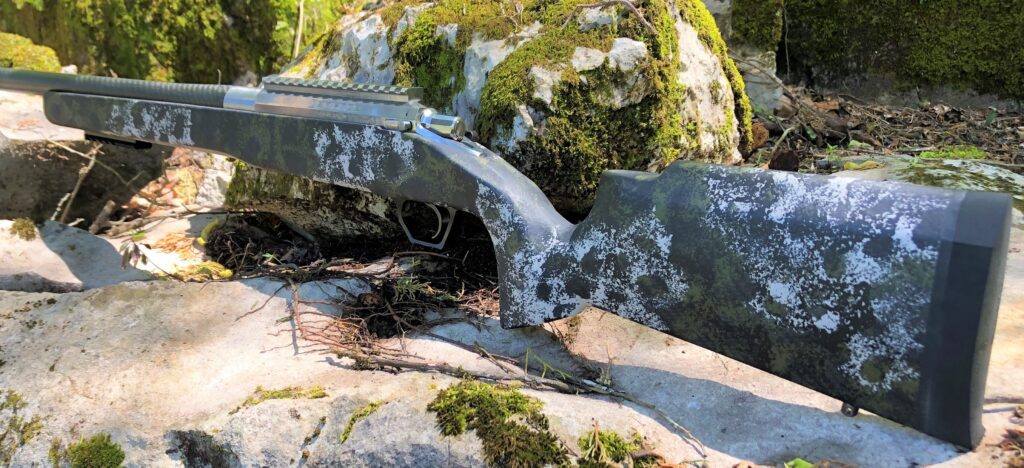 AG Composites Announces Exciting New Carbon K2 Stock Upgrades
OWENS CROSS ROADS, Ala. (May 2, 2022) ¾ AG Composites, a veteran-owned manufacturer of premium composite rifle stocks, is proud to announce some exciting new upgrades to its incredibly popular Carbon K2 series.
"The Carbon K2 series has been extremely well received by the shooting and hunting public," said company owner Matt Tandy. "After receiving lots of feedback from our customers, we've added some new feature options that make it even more functional and appealing."
The new features on the Carbon K2 include a beveled forend with a flat bottom, which is perfectly shaped to be cradled in a user's hand and will accommodate Picatinny rails up to 8-inches in length, ambidextrous thumb shelves with a very ergo-friendly vertical pistol grip, and a slightly rounded buttstock that provides a comfortable cheek weld. They are also available with an adjustable cheek piece. An attractive new camouflage pattern, Wintergreen Rogue, is now available on the Carbon K2.
The average weight of these stocks is just 31 ounces (fixed stock), and 40 ounces (adjustable stock.) The Carbon K2 series are available in different color and camo options, for both right- and left-handed models. All Carbon K2 series stocks can be inletted for Remington 700 actions or one of several Remington clone options: Defiance, Kelbly, Lone Peak, Big Horn, Terminus, and others. They have a suggested retail price of $679 for the fixed stock version and $749 for the adjustable version.
Carbon K2 Stock Specifications:
Fixed Stock Average Weight: 31 ounces
Adjustable Stock Average Weight: 40 ounces
Overall Length: 32.25"
Length of Pull: 13.5"
Forend Width: 1.875"
Aluminum block inside the forend from the tip of the stock to 1″ in front of the recoil lug. This can be drilled and tapped for different rails
Aluminum pillars installed
1" Pachmayr Decelerator pad installed
CNC-machined barrel channel
Two swivel studs installed in the forend; One swivel stud installed in the buttstock.
More information on the AG Composites' complete line of products – all made in the USA — and how they are produced can be found at https://agcomposites.com/ or by Clicking Here.
About AG Composites: AG Composites is a veteran-owned company that designs and manufactures advanced composite products in Owens Cross Roads, Ala. The company uses modern design software to create Computer Aided Design (CAD) models and the highest quality carbon fiber, epoxy and paint to make its line of rifle stocks. Every stock is tested with the action, bottom metal and barrel hardware before it ships to the customer. The company is known for delivering its products in weeks, not months. AG Composites' mission is to be the most responsive reliable and supportive supplier in the advanced composites industry. The company can be reached at 1-833-AGSTOCK, [email protected], or for more information visit www.agcomposites.com.
Editorial Contact:
Karen Lutto
(210) 451-9113 (office)
(804) 539-6699 (cell)