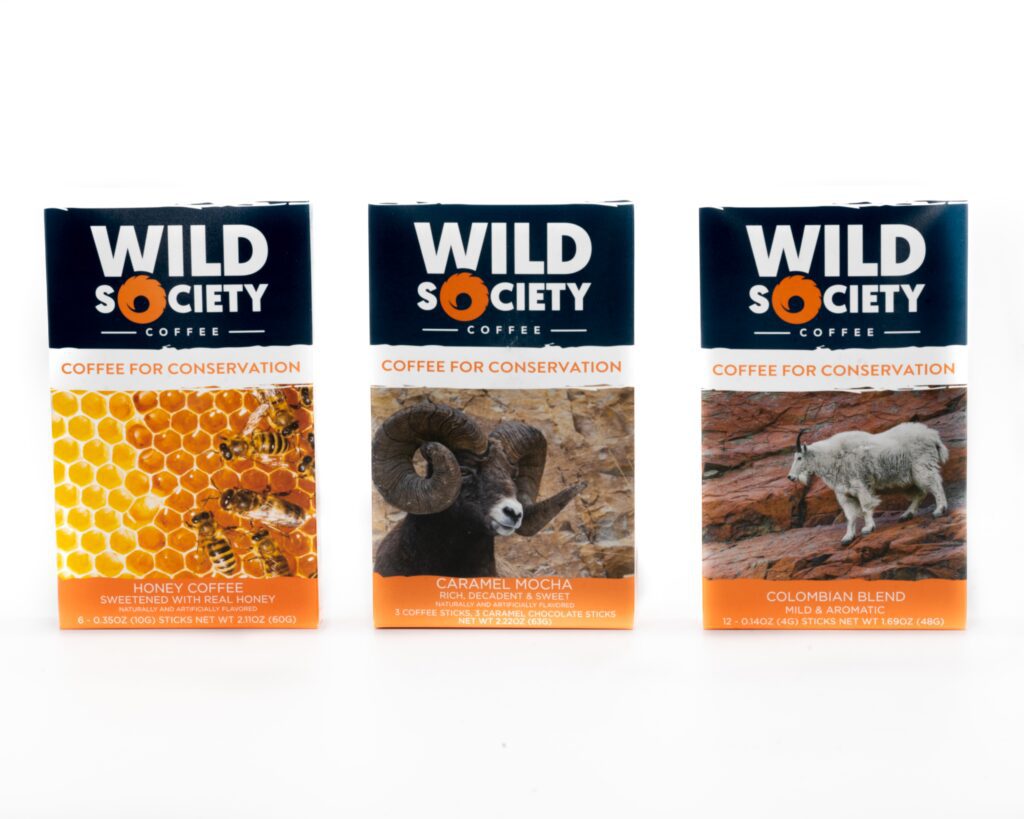 BOZEMAN, Montana (May 17, 2022) Rediscover instant coffee with Wild Society's Microground Instant Coffee and realize that convenience doesn't mean you sacrifice quality. Wild Society's instant coffee is unlike any instant coffee you have ever tasted. Its proprietary 3-grind process turns its freshest premium roasted coffee blends into an ultrafine ground that instantly dissolves in hot water, giving the coffee a perfect combination of aroma and taste, and for a limited time the company is offering sweet savings with its bundle special.
Enjoy the collection of Wild Society's three premium Microground instant coffees for only $49.95 (regularly $60.95.) Each bundle contains six Honey coffee sticks, 12 Columbian coffee sticks and three Caramel Mocha servings. All three flavors offer a rich and flavorful cup of java that will get your day going.
The Honey coffee features plenty of honey with melting sweetness. Aggressively flavorful, the Kilimanjaro premium coffee beans present a smooth, velvety texture with hints of black current. Real honey adds a mellow sweetness that overlaps with the depth and richness of the coffee to define a delicious taste. The Columbian Blend uses only the highest grade supremo Colombian beans to create a chocolate-caramel-nut flavor profile. With a soft texture and a smooth nutty richness, this coffee is characterized by its refreshing flavor. This well-balanced coffee is an attractive blend that finishes with a calm acidity. The Caramel Mocha is blend of rich Belgium chocolate and mellow caramel melted together with finely crushed hazelnut. It is the ultimate morning luxury. Dissolve it in hot milk and it will become a creamy café mocha.
These delicious instant coffees are currently available exclusively online at wildsocietycoffee.com. The Bundle Pack is available for a limited time so be sure to take advantage of these great savings while they last. To order CLICK HERE.


Headquartered in Bozeman, Montana, Wild Society Coffee is a community of adventurers, hunters and outdoor enthusiasts who have taken it upon themselves to bring better coffee, from a better company. From the Aliulik Peninsula on Kodiak Island to Carmen Island, Mexico and everywhere in-between; they spent countless days in desolate places never satisfied with the coffee they had until now. Additionally, twenty percent of all profits from both the coffee and apparel go directly to actionable conservation projects in North America. For more information on Wild Society Coffee, its products, and its conservation strategy visit www.wildsocietycoffee.com
Editorial Contact:
Karen Lutto
(210) 451-9113 (office)
(804) 539-6699 (cell)