NEWS RELEASE
FOR IMMEDIATE RELEASE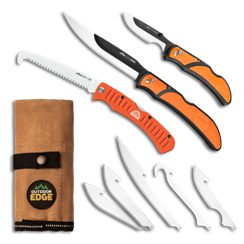 RazorGuide™ Pak is Now in Stock and Shipping
DENVER(July 19, 2022) – Outdoor Edge, America's leading manufacturer of knives and tools for all things outdoors, is pleased to announce that its RazorGuide™ Pak is currently in stock and shipping. The two knives in the RazorGuide Pak feature the company's patented and industry leading RazorSafe™ replaceable blade system.
The RazorGuide Pak is the perfect hunter's combo kit for taking care of the largest big game animals from fieldto table. It is built to withstand the use and abuse of guides, outfitters, and serious hunters while being small enough to fit into your daypack, truck, or side-by-side. Included in the Pak are two of Outdoor Edge's most popular knives – the RazorBone™ and the RazorCape™, as well as the multipurpose Flip N Zip™aluminum handled folding saw that works equally well on bone or wood. Both knives feature the Outdoor Edge patented Replaceable Blade System and a host of different blade profiles, including two of thenewly designed 3.0-inch caping blades, a single 3 ½-inch gutting blade, two 3 ½-inch drop-point blades and two 5.0-inch boning/fillet blades.
The RazorGuide Pak comes in a premium waxed canvas roll pack, which converts into a belt scabbard. This unique design keeps everything separated, protected, and organized until it's time to get to work.
Make The Cut™ and get the job done fast with the all-new RazorGuide Pak from Outdoor Edge. MSRP is $99.95For more information on the RazorGuide Pak, as well as the full line of Outdoor Edge products, call toll-free 1-800-477-3343; email [email protected];visit www.outdooredge.com or Click Here.
RazorGuide™ Pak Specifications
RazorBone™:
Overall: 10.8 in / 23.7 cm
Weight: 3.1 oz / 87.9 g
Spare Blades
Gutting Blade (1 Pcs.): 3.9 in / 10.0 cm
Drop Point Blade (2 Pcs):
Boning/Fillet Blade (2 Pcs.):
RazorCape™:
Overall: 7.1 in / 18.0 cm
Weight: 2.0 oz / 57 g
Spare Blades
Caping Blade (2 pcs): 3.0 in / 7.6 cm
Knife Blade Steel: Japanese 420J2 stainless steel
Rockwell-C Hardness: 55-56
Holder: 420J2 with black-oxide coating
Knife Handles: Grivory® with TPR inserts and stainless steel pocket clip
Flip N Zip Saw
Overall: 9.4 in / 23.8 cm
Saw Weight: 2.5 oz / 70 g
Saw Blade: 4.4 in / 11.2 cm
Saw Handle: 6061-T6 Aluminum
Saw Steel: Chrome coated 65Mn
Nylon Roll Pack Dimensions:
6.5 x 2.5 x 2.5 in / 16.5 x 6.4 x 6.4 cm
About Outdoor Edge:
Founded in 1988 and headquartered in Denver, Outdoor Edge is a leading designer and manufacturer of knives and tools. Outdoor Edge continues to innovate and develop revolutionary products for hunters, outdoor enthusiasts, handymen and anyone who requires the very best knives and tools available for leisure, work and everyday-carry needs. The company prides itself in technology and innovation through its patented RazorSafe™ replaceable blade system, offering a variety of knife handles and blade profiles so you never have to sharpen your knife again, no matter the task. All knives and tools undergo extensive field-testing in harsh, rugged environments resulting in durable, long-lasting products that come with a lifetime guarantee. For additional information on Outdoor Edge and its full line of products call (800) 477-3343; email [email protected]; or visit www.outdooredge.com. Outdoor Edge is a Revo Brands company.
About Revo Brands:
Revo Brands is the parent company of enthusiast and mission critical brands that drive growth through superior innovation, design and marketing. Our brand portfolio features market leading brands Real Avid and Outdoor Edge.Visit www.RevoBrands.com for more information.
Editorial Contact:
Karen Lutto
(210) 451-9113 (office)
(804) 539-6699 (cell)
[email protected]
HOC Website: www.hunteroc.com