NEWS RELEASE
FOR IMMEDIATE RELEASE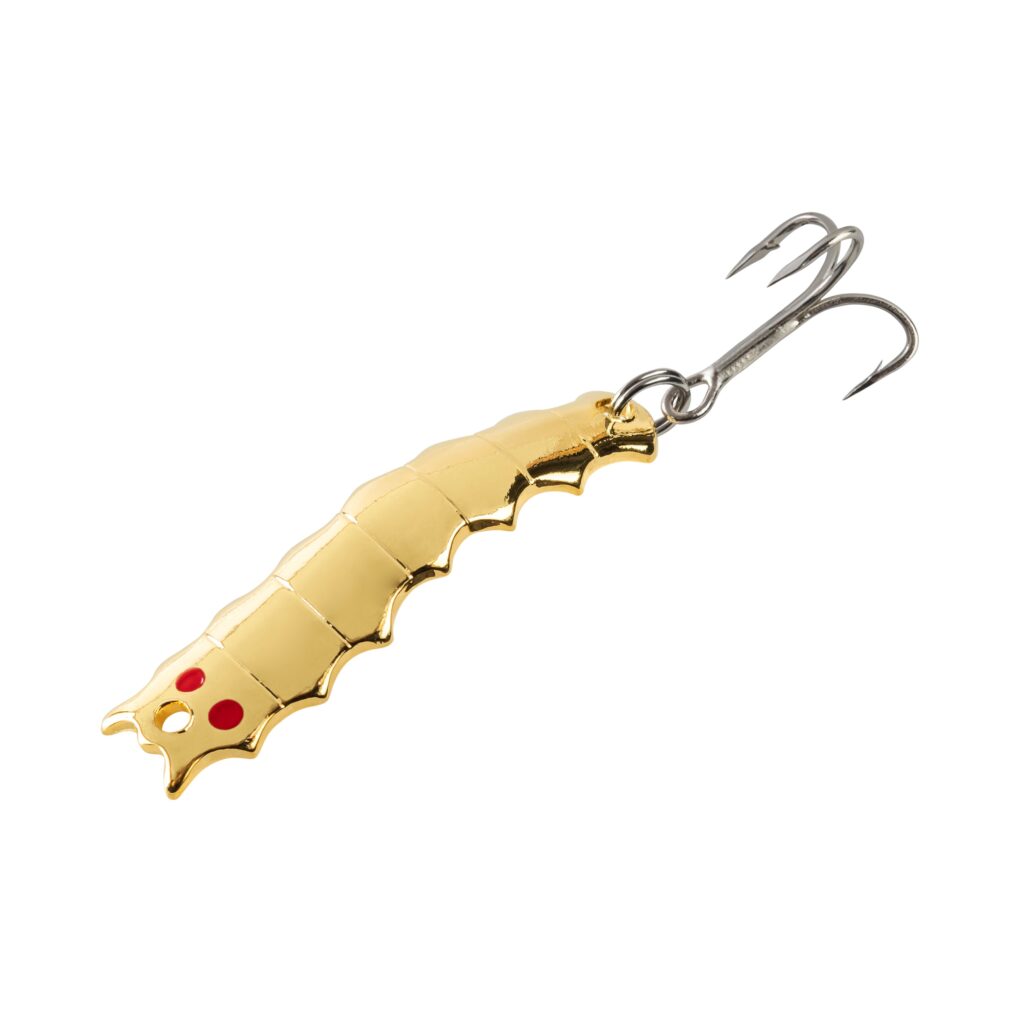 ELIOT, Maine (Aug. 29, 2022) —For decades, one of the best-kept secrets of successful trout and smallmouth bass anglers has been the use of the hellgrammite – the aquatic larva of the dobsonfly – as bait. Found in streams and rivers under rocks, hellgrammites – which resemble a centipede, with a head equipped with a pair of sharp pincers that can inflict a painful bite – can stimulate an aggressive feeding response when other baits will not. And while the adult dobsonfly lives for only about two weeks, hellgrammites will stay in this life cycle stage for 2-3 years, which means they can be found all throughout the fishing season. That's why in-the-know anglers always carry imitation baits that look like hellgrammites, and why Al's Helgy is an extremely successful tool to always have in your tacklebox.

A hellgrammite measures approximately 1-3 inches long, and Al's Helgy measures 1-3/4 inches in length, making it the perfect size. Weighing 1/4 oz. and plated in either 22k gold, nickel, or copper, it comes in a variety of painted colors as well. Al's Helgy is versatile, and can be used as a casting lure, jigged, and even trolled. When retrieved or trolled, this spoon's odd shape makes it undulate and wobble erratically, and when jigged it flutters on the drop. Because of this flutter, the Helgy is a good spoon to jig through the ice, and the ice-fishing version of Al's Helgy comes with a glow-in-the-dark nose for added attraction. Well known by trout and smallmouth anglers, the Helgy is also very effective for panfish and walleye.

MSRP for the made-in-the-USA Al's Helgy is $4.49. More information is available at the Al's Goldfish Lure Company's website; specific info on Al's Helgy can be found here: https://www.alsgoldfish.com/helgy-fishing-lures-s/46.htm or by Clicking Here. You can also watch a short video of Al's Helgy lure action when cast & retrieved or trolled here: https://youtu.be/YaPtt_T331k. For more information on the company's entire line of lures and fishing accessories, visit https://www.alsgoldfish.com/, or give them a call at (413) 543-1524.

About Al's Goldfish Lure Company
The company was launched in 1952 with a single pioneering spoon lure, known as Stuart's Goldfish, named after founder Al Stuart. The company's flagship lure was renamed Al's Goldfish in 1954, and by 1973 the popularity of the Goldfish lure soared to nearly one million lures sold in a year. Along the way, other popular lures, such as the Forty-Niner and Helgy, and hook bonnet lure accessories were added to the company's list of American-made products. In 2015 the line was expanded to include the Saltwater Goldfish series. In 2022, present owners Jeff and Mandy DeBuigne are celebrating the 70-year anniversary of the Goldfish lure. For more information on Al's Goldfish Lure Company visit www.alsgoldfish.com.
Editorial Contact:
Karen Lutto
(210) 451-9113 (office)
(804) 539-6699 (cell)
[email protected]
www.hunteroc.com