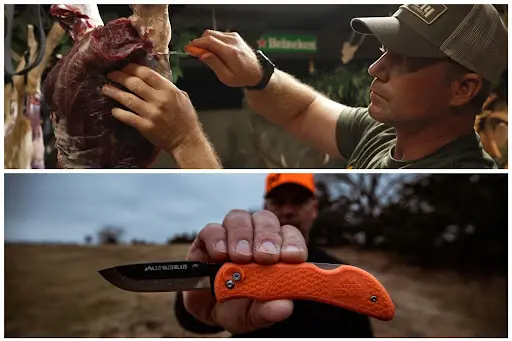 DENVER (August 8, 2022) — Outdoor Edge, America's leading manufacturer of knives and tools for all things outdoors, will continue as the official knife sponsor of Outdoor Channel's popular TV show, Hunt Masters hosted by Gregg Ritz.
Hunt Masters ushers in an exciting new genre of dynamic outdoor television. Filmed on location, across the world's most scenic and diverse landscapes, this adrenaline-charged, documentary style show chronicles Gregg's relentless search of record book trophies. Each week brings a new and exciting adventure with Gregg, his guests and his trusted Outdoor Edge tools.
"Outdoor Edge knives are an indisputable must have on every hunt I go on," said Gregg. "The Razor system is the best processing set you could ever use in the field; from whitetail to elk and all fish and game in between. The signature orange handle has set the standard and is synonymous with quality, sharpness and durability from a company that truly cares about its product, performance and the people using it. Not only are they my go-to game knife, but I am proud that my daughters are growing up learning how to break down and process meat with Outdoor Edge Knives."
Join Gregg each week on the Outdoor Channel where you can expect to see the line of premium Outdoor Edge products Mondays at 2:00 PM EST, Tuesdays at 8:30 AM EST, Wednesdays at 5:30 PM EST, Thursdays at 10:30 AM EST and Sundays at 8:30 PM EST.
About Outdoor Edge:
Founded in 1988 and headquartered in Denver, Outdoor Edge is a leading designer and manufacturer of knives and tools. Outdoor Edge continues to innovate and develop revolutionary products for hunters, outdoor enthusiasts, handymen and anyone who requires the very best knives and tools available for leisure, work and everyday-carry needs. The company prides itself in technology and innovation through its patented RazorSafe™ replaceable blade system, offering a variety of knife handles and blade profiles so you never have to sharpen your knife again, no matter the task. All knives and tools undergo extensive field-testing in harsh, rugged environments resulting in durable, long-lasting products that come with a lifetime guarantee. For additional information on Outdoor Edge and its full line of products call 800-477-3343; email [email protected]; or visit www.outdooredge.com. Outdoor Edge is a Revo Brands company.
About Revo Brands:Revo Brands is the parent company of enthusiast and mission critical brands that drive growth through superior innovation, design and marketing. Our brand portfolio features market leading brands Real Avid and Outdoor Edge. Visit www.RevoBrands.com for more information.
Editorial Contact:
Karen Lutto
(210) 451-9113 (office)
804-539-6699 (cell) 
[email protected]
HOC Website: www.hunteroc.com