NEWS RELEASE
FOR IMMEDIATE RELEASE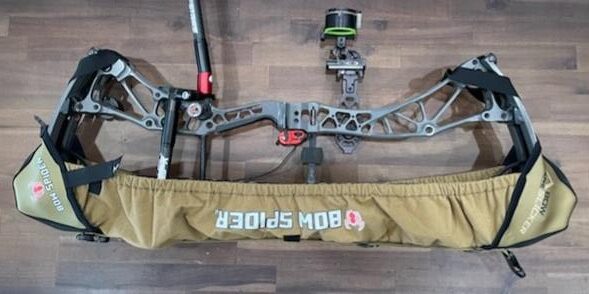 Protect  and Carry Your Bow with the Bow Spider Alpine Bow Slicker™
KINNEAR, Wyo.(Sept. 12, 2022) — Bow Spider, the quickest and easiest bow retrieval system on the market, has teamed up with Alpine to offer bowhunters an easy and effective way to protect and carry their bow – the Bow Spider Alpine Bow Slicker.
The Bow Spider Alpine Bow Slicker is ultralight, durable and designed to fit most compound bows on the market with parallel limbs ranging from 24"-36" axle-to-axle. Mesh loops easily wrap around the limbs of the bow and a pocket of durable fabric slips over the bow cams. The sleeve is crafted with elastic in the hem to allow for a more secure grip around the bow while also making it easy and quick to remove.
No clips, snaps or buckles are required, making the Bow Spider Alpine Bow Slicker super convenient whether in the field or at the range. It is made in America and comes with a guarantee against manufacturer defects. It has a suggested retail price of $65.95.
For more information on the Bow Spider Alpine Bow Slicker or the other amazing products available from Bow Spider visit www:bowspider.com or Click Here.
The Bow Spider Alpine Bow Spider is available for a limited time so be sure to order one soon be they are gone!
About Recreational Archery Development LLC (RAD, LLC): Founded in 2019 and headquartered in Kinnear, WY, RAD, LLC is a leading designer and manufacturer of innovative products for the outdoor industry, including the Bow Spider brand of products. Bow Spider's intuitive design makes bow retrieval fast and easy in any situation. The product is proudly made in the USA and gives one percent of all sales to conservation. The company also offers veterans a 15 percent discount on all products. (To take advantage of this offer orders need to be called in directly to the company at 307-438-9290.) For additional information on RAD, LLC and the Bow Spider brand of products write to: RAD, LLC, PO Box 171, Kinnear, WY 82516; call 307-850-8052, email [email protected],visit www.bowspider.com.
Editorial Contact:
Karen Lutto
(210) 451-9113 (office)
(804) 539-6699 (cell)
[email protected]
HOC Website: www.hunteroc.com