NEWS RELEASE
FOR IMMEDIATE RELEASE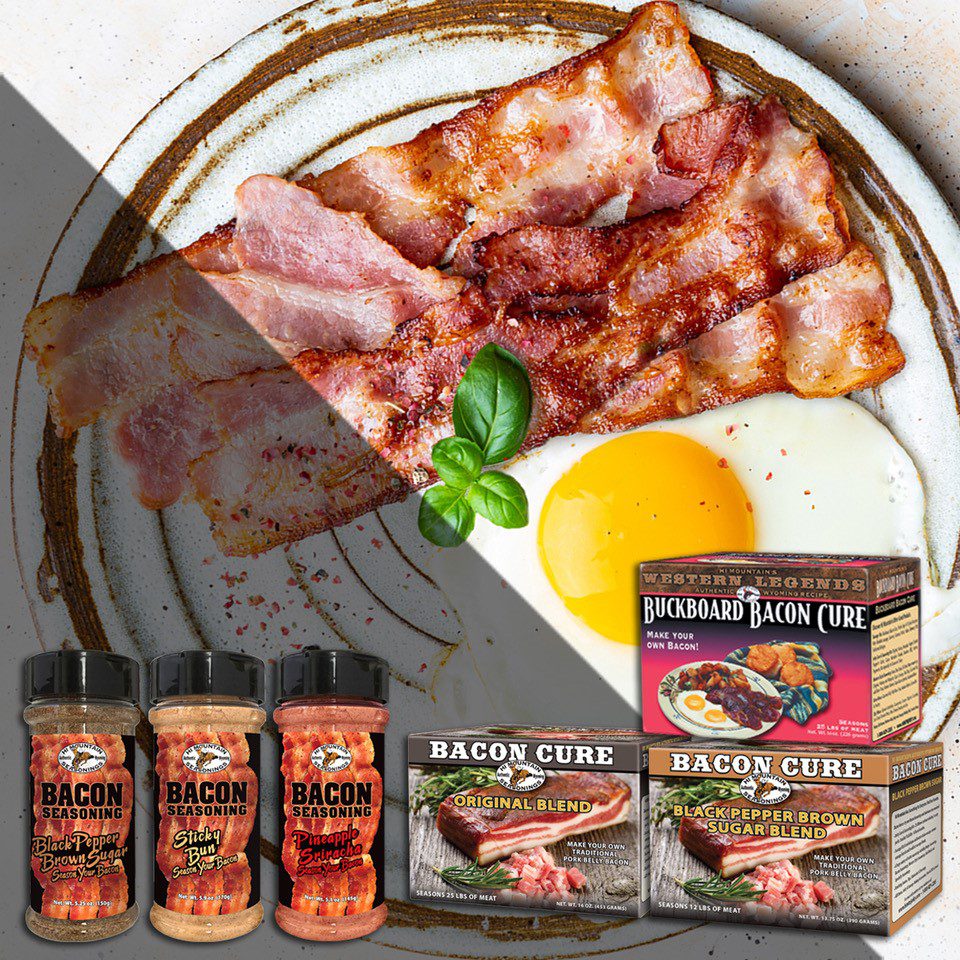 Riverton, WY (May 24, 2022 ) — According to the National Pork Board Americans consume 1.1 billion servings of bacon annually. In fact, the average American consumes almost 18 lbs. of bacon each year. Why? Because everything tastes better with bacon! Hi Mountain Seasonings understands this and has put together the perfect Bacon Lover's Bundle that allows you to easily create bacon masterpieces in the comfort of your home.
The Bundle, which includes Sticky Bun Bacon Seasoning, Pineapple Sriracha Bacon Seasoning, Black Pepper & Brown Sugar Bacon Seasoning, Original Bacon Cure, Black Pepper & Brown Sugar Bacon Cure and Buckboard Bacon Cure, makes enjoying delicious, homemade bacon easier than ever. You can use Pork Belly, Boston Pork roast or try pork loin to make your very own Canadian bacon. Maybe even try using a venison hindquarter roast to make a mouthwatering venison ham. Best of all you can slice your bacon however you like- thick, thin, or in-between. It is your choice.
You can also take your bacon to the next level with Hi Mountain Seasonings Bacon Seasonings. The sweet, spicy and savory seasonings will take your bacon to a whole new level of deliciousness. To use, simply shake about 1/4 teaspoon of the Bacon Seasoning evenly on each side of the bacon prior to cooking. It doesn't matter how you like to cook your bacon—in the oven, microwave or in a skillet—the Hi Mountain Seasonings Bacon Seasonings add unique flavors to make your bacon taste even more fabulous.
Now making your own bacon at a great savings, from your selected cuts is easier than ever thanks to Hi Mountain Seasonings.
The new Bacon Lover's Bundle with six great Hi Mountain Seasonings Bacon Cures and Seasonings is available exclusively online at www.himtnjerky.com. The individual products can be purchased at retailers nationwide. The Bundle has a suggested retail price of $56.29 but is currently on sale for $44.99. To order Click Here. Hi Mountain's entire line of products, cooking tips, instructional videos and recipes are also available at www.himtnjerky.com. Hi Mountain products also can be found at high-end sporting-goods stores, farm-and-ranch stores and many local grocery stores.
Located in the heart of Wyoming, Hi Mountain Seasonings was founded in 1991. It is the premier manufacturer of kits for homemade jerky and sausage. Hi Mountain Seasonings has successfully captured distinct, traditional Western flavors in its jerky cure & seasonings, Western-style seasonings, bacon cures and other products that make up the unique line of gourmet Western seasonings. For additional information, write: Hi Mountain Seasonings, 1000 College View Drive, Riverton, WY 82501; call toll-free 1-800-829-2285; or visit the company website at www.himtnjerky.com.
# # #
Editorial Contact:
Karen Lutto
(210) 451-9113 (office)
(804) 539-6699 (cell)
HOC Website: www.hunteroc.com