NEWS RELEASE
FOR IMMEDIATE RELEASE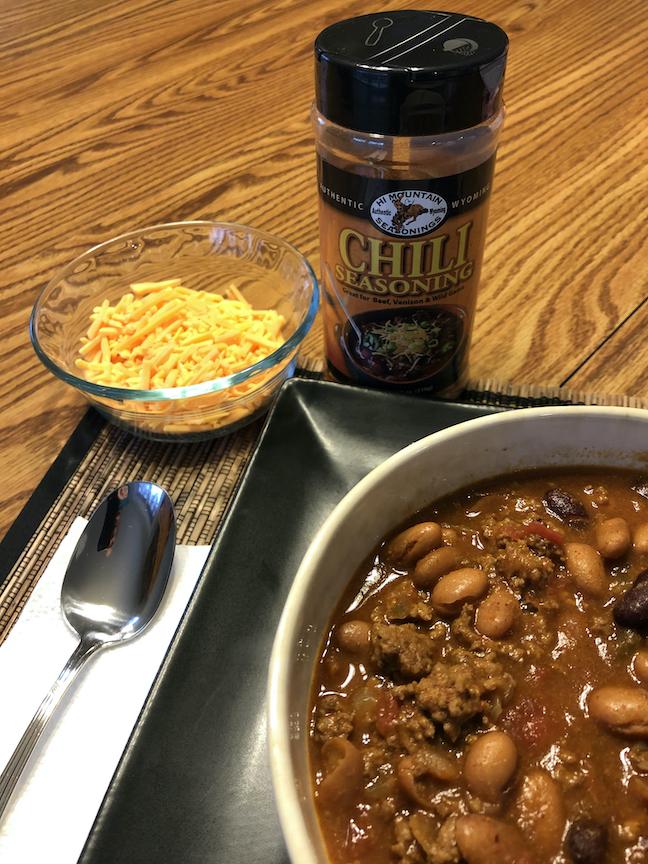 RIVERTON, Wyo. (Feb. 4, 2022) — The coldest months of winter are upon us now. Cold weather and wintery storms make comfort food a necessity and an all-time favorite for blistery winter days is chili. Nobody does chili better than Hi Mountain Seasonings.
While Hi Mountain Seasonings launched its famous Chili Seasoning in 2017, chili itself has a history that dates back to the early 1600s. The myths and tales that surround this popular dish are colorful and plentiful. One popular legend tells of a Spanish nun named Sister Mary of Agreda who supernaturally appeared to Native Americans and provided them with the first recipe for chili that consisted of chili peppers, venison onions and tomatoes. Another old legend holds that immigrants from the Canary Islands brought a recipe for chili with them from the Canary Islands in the early 1700s when they settled in San Antonio. What we do know to be true is that it was a popular dish amongst cowboys and pioneers in the Western frontier.
In the 1800's chili stands were very popular in San Antonio and in 1893 the World's Fair in Chicago featured the dish at the San Antonio Chili stand. Since that time, chili has become a household name and a very popular dish all over the country. It's affiliation with Texas, remains extremely strong. In fact, in 1977, the Texas legislature named it as the official state dish.
Chili warms you inside and out, its filling, easy to make and it is nutritious. The Hi Mountain Seasonings chili recipe has become so popular, it is now conveniently located on every bottle of the seasoning. So, as the temperatures drop, warm yourself, your family and your friends up with a bowl of delicious Hi Mountain Seasonings' mouthwatering chili. Other great recipes using Hi Mountain Seasonings' products can be found at https://himtnjerky.com/brands/ or by Clicking Here.
Hi Mountain's entire line of products, cooking tips, instructional videos and recipes are also available at www.himtnjerky.com. Hi Mountain products also can be found at high-end sporting-goods stores, farm-and-ranch stores and many local grocery stores.
Located in the heart of Wyoming, Hi Mountain Seasonings was founded in 1991. It is the premier manufacturer of kits for homemade jerky and sausage. Hi Mountain Seasonings has successfully captured distinct, traditional Western flavors in its jerky cure & seasonings, Western-style seasonings, bacon cures and other products that make up the unique line of gourmet Western seasonings. For additional information, write: Hi Mountain Seasonings, 1000 College View Drive, Riverton, WY 82501; call toll-free 1-800-829-2285; or visit the company website at www.himtnjerky.com.
Hi Mountain Seasonings Chili Recipe
Ingredients
11/2 lbs. ground beef or venison
6 Tbsp. Hi Mountain Chili Seasoning
1 medium onion
1 can diced tomatoes
2 cups of your favorite salsa
1 16oz. can dark red kidney beans (drained)
2 16 oz. cans of chili beans (pinto beans in chili sauce)
Instructions
Cook meat on medium/low with diced onion and Hi Mountain Chili Seasoning until pink is gone from the meat. Add the remaining ingredients. Simmer on low stirring occasionally. Simmer at least one hour before serving.
# # #
Editorial Contact:
Karen Lutto
(210) 451-9113 (office)
(804) 539-6699 (cell)