NEWS RELEASE
FOR IMMEDIATE RELEASE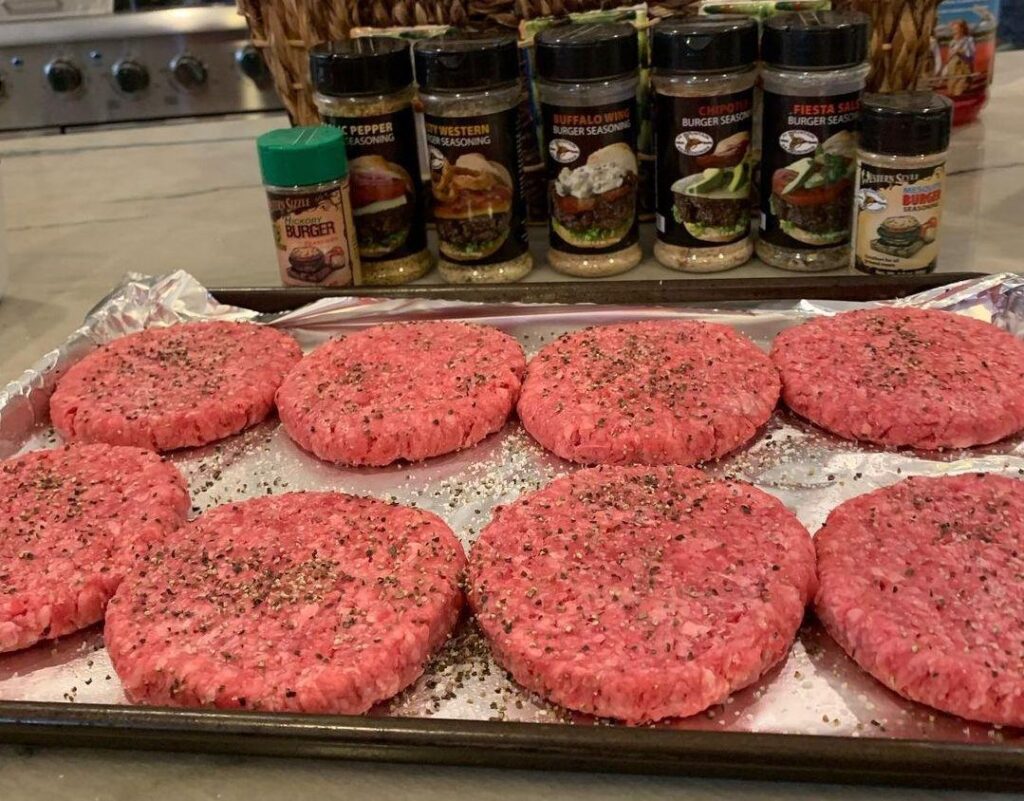 Riverton, WY (Aug. 17, 2022 ) —"I'd gladly pay you Tuesday for a hamburger today," J. Willington Wimpy, a.k.a. Wimpy, famously told Popeye many times over, beginning in 1931. And why not? The hamburger has been America's go-to summer grilling staple literally for more than a century. And nothing sends an average hamburger over the top faster and easier than adding one of six Gourmet Burger Seasonings from Hi Mountain Seasonings to kick it up a notch.
The Hi Mountain Seasonings' Gourmet Burger Seasonings collection includes:
* Hi Mountain Chipotle Burger Seasoning: The red Jalapeño chili pepper is transformed when smoked, creating the chipotle chili. The deep rich flavor of Hi Mountain Chipotle Burger Seasoning makes an ordinary burger burst with robust Western flavor.
* Hi Mountain Buffalo Wing Seasoning: Mixing this special blend into your burger creates an amazing flavor combination that will make you wonder where this seasoning has been all your life. Add Hi Mountain Bleu Cheese or Ranch Dressing for the full buffalo wing taste sensation in a burger!
* Fiesta Salsa Burger Seasoning: All the bright flavors of salsa united in a burger. Hi Mountain's Fiesta Salsa Burger Seasoning is a fiesta of flavors for your taste buds!
* Hi Mountain Garlic Pepper Burger Seasoning: This gold standard is the perfect pairing of flavors. The simple, yet robust blend is the secret to succulent burgers that everyone craves.
* Hickory Burger Seasoning: Hickory is the most popular smoking wood today. Hi Mountain Hickory Burger Seasoning gives your burger that rich, full distinctive flavor without the smoke.
* Hi Mountain Zesty Western Burger Seasoning is hearty and bold-the way a burger should be. Add authentic Western flavor to your next cook-out with Zesty Western Burger Seasoning.
The All-American hamburger may be easy to grill but taking it to the next level requires some basic tips and techniques. According to legendary chef Bobby Flay, it's best to use lean hamburger meat (or, if you really want to go to the next level, ground venison), with a ratio of 80 percent meat/20 percent fat. This mixture will both hold the meat together and keep it from drying out when grilling, as is the case when using leaner meat. Keep the meat refrigerated until it's time to pat it into 6-8 oz. patties, then sprinkle your Hi Mountain Seasonings Gourmet Burger Seasoning of choice over the meat, gently folding it in, then pat it into patties that are one-inch larger in diameter than the bun, to account for shrinkage when grilling. When grilling, don't press the burgers down! Doing so will drain all the juicy flavor right out. Add your cheese about a minute before the burgers are done, then let them rest a minute after they come off the grill. This allows time for the juices to redistribute throughout the burger, giving you a more flavorful experience.
Hi Mountain Seasonings is America's leading provider of meat and fish seasonings; jerky, sausage, and Snackin' Stick kits; dressings & dips; and much more. The company is in its 31st year of business, a testimony to both the high quality of its products, and its customer service. All Hi Mountain Seasonings' Gourmet Burger Seasonings come in generous 6.7 oz. bottles, with a MSRP of $8.49. They also offer three Western Style Seasonings for burgers: Original Burger, Mesquite and Hickory Burger. They are available in 2.5 – 3.0 oz bottles for a suggested retail price of $4.99. For more information on the entire line, plus free mouth-watering recipes and more, visit https://himtnjerky.com/.
About Hi Mountain Seasonings: Located in the heart of Wyoming, Hi Mountain Seasonings was founded in 1991 and is America's premier manufacturer of kits for homemade jerky and sausage. Hi Mountain Seasonings has successfully captured distinct, traditional Western flavors in its jerky cure & seasonings; Western-style seasonings; bacon cures; snackin' stick kits, dressings & dips; and much, much more. The company also offers field dressing and prep and cooking tools. For additional information, write: Hi Mountain Seasonings, 1000 College View Drive, Riverton, WY 82501; call toll-free 1-800-829-2285; or visit the company website at www.himtnjerky.com.
Editorial Contact:
Karen Lutto
(210) 451-9113 (office)
(804) 539-6699 (cell)
[email protected]HOC Website: www.hunteroc.com