NEWS RELEASE
FOR IMMEDIATE RELEASE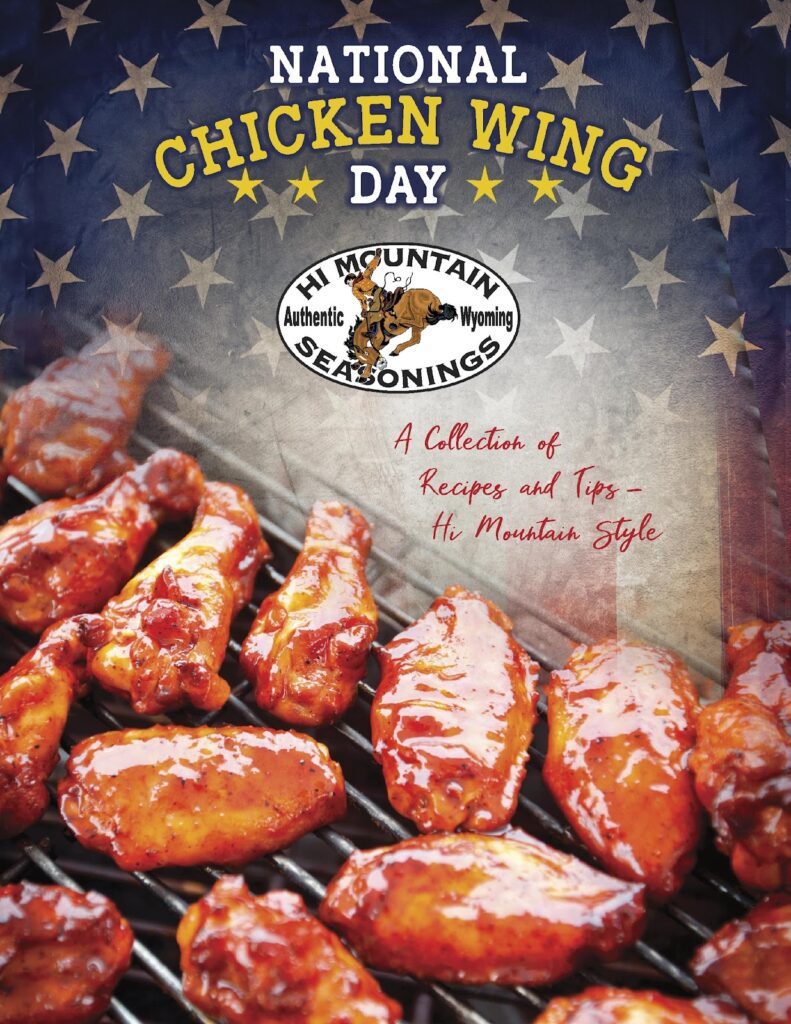 Riverton, WY (July 19, 2022 ) — In observance of National Chicken Wing Day, celebrated on July 29th, Hi Mountain Seasonings has put together a collection of chicken wing cooking tips and delicious recipes – all done Hi Mountain Style! To view the cookbook Click Here.
The compilation of recipes and tips collected from Hi Mountain Seasonings employees and industry professionals features tips that provide quick and simple ways to create a variety of gourmet wings using Hi Mountain Seasonings spices and marinades and some incredibly delicious wing and dip recipes. Creating a mouthwatering wing dish can be as simple as brushing olive oil and dusting the wings with one of the many Western Style Seasonings from Hi Mountain Seasonings. The most popular seasonings for wings are Trail Dust and Cajun Cowboy, but experiment with any of the 24 uniquely different flavors offered. You may find a different one to be your personal favorite.
The Hi Mountain Seasonings marinades, Soy Ginger, Sweet Honey, Zesty Western and Buffalo Wings, are also an easy method of preparing wings. Once marinated you can fry, smoke, grill or bake the wings. When they hit 165 degrees internal temperature, they are ready to enjoy.
Of course, the culinary creations you can create from the recipes provided will turn those plain old wings into a gourmet meal that will have everyone asking for more. Each one is very different, yet delightfully palate pleasing. Be sure to try them all.
So, this July 29th, grab some Hi Mountain Seasonings products and raise a wing in honor of National Wing day!
Hi Mountain's entire line of products, cooking tips, instructional videos and recipes are also available at www.himtnjerky.com. Hi Mountain products also can be found at high-end sporting-goods stores, farm-and-ranch stores and many local grocery stores.
Located in the heart of Wyoming, Hi Mountain Seasonings was founded in 1991. It is the premier manufacturer of kits for homemade jerky and sausage. Hi Mountain Seasonings has successfully captured distinct, traditional Western flavors in its jerky cure & seasonings, Western-style seasonings, bacon cures and other products that make up the unique line of gourmet Western seasonings. For additional information, write: Hi Mountain Seasonings, 1000 College View Drive, Riverton, WY 82501; call toll-free 1-800-829-2285; or visit the company website at www.himtnjerky.com.
# # #
Editorial Contact:
Karen Lutto
(210) 451-9113 (office)
(804) 539-6699 (cell)
HOC Website: www.hunteroc.com