NEWS RELEASE
FOR IMMEDIATE RELEASE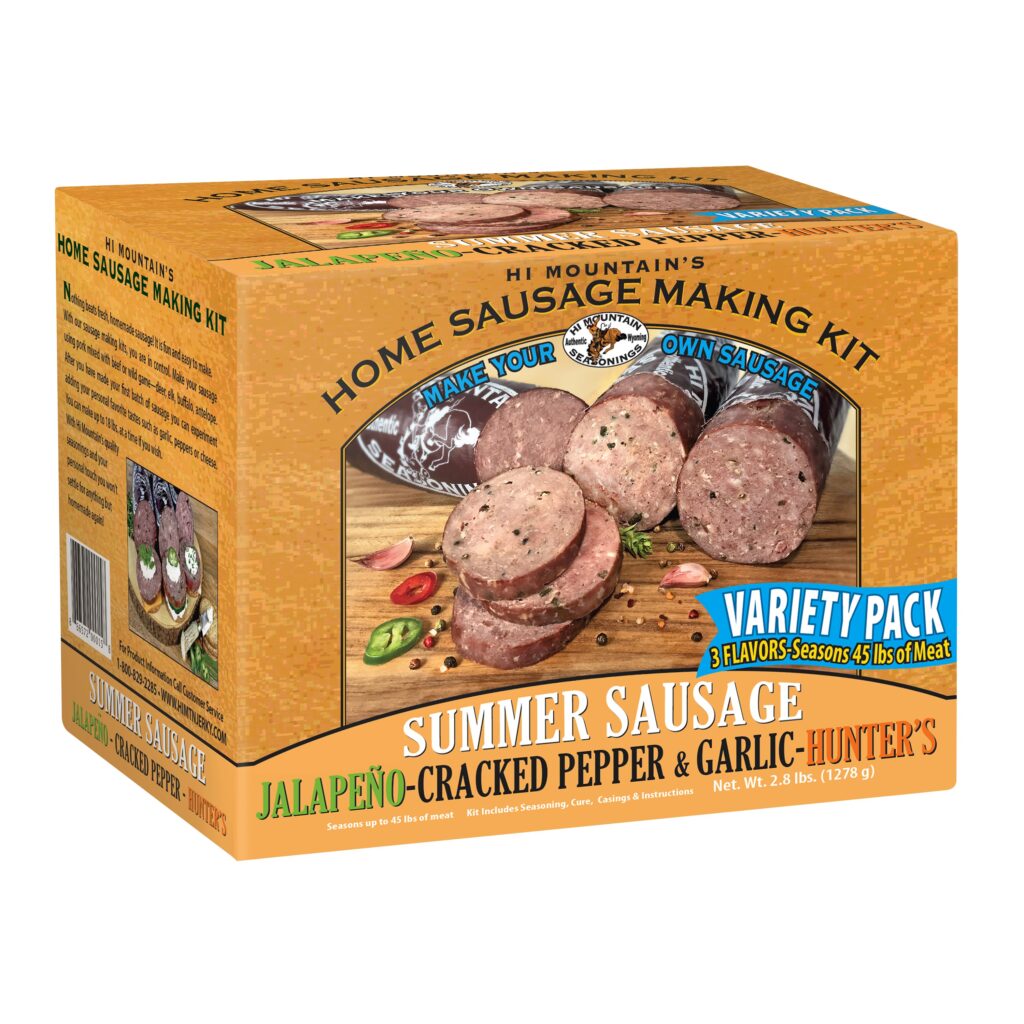 Riverton, WY (Sept. 6, 2022 ) — Did you know that October has been designated as National Sausage Month? To help celebrate, Hi Mountain Seasonings has introduced its Summer Sausage Variety Kit. The kit will make 15 lbs. each of three of the most popular flavors: Cracked Pepper & Garlic, Hunter's Blend, and Jalapeno sausage, for a total of 45 lbs. of mouth-watering yumminess.
The Hi Mountain Seasonings' Cracked Pepper & Garlic Summer Sausage Kit uniquely incorporates a special blend of salt, spices, dehydrated garlic, and soybean oil that's been refined to be allergen free. and a cure of salt, sugar, a touch of sodium nitrite, and caramel color that gives your meat a zesty flavor perfect for grilling on a brisk fall afternoon.
Hunter's Blend Summer Sausage has the same great flavor as the Hi Mountain Seasonings' popular Hunter's Blend Jerky and Snackin' Stick Kits and is one of our most popular blends. It mixes a special blend of herbs and spices that are uniquely blended to deliver that perfect rich sausage flavor that everyone craves. It's perfect for tailgating or an everyday snack.
Hi Mountain Seasonings' Jalapeño Summer Sausage is not like the other summer sausages; it is a spicy sausage that contains jalapeño peppers to add a pinch of spiciness to make it more flavorful. It has just enough heat to wake you up, yet it remains mild enough for just about everyone to enjoy. If you like spices and are looking for the perfect spicy, full flavor sausage this is the one for you. It is guaranteed to get your attention and that of all your guests!
Hi Mountain Seasonings' summer sausages can be prepared on the grill, in a dehydrator or in the convenience of your oven. Any way you choose, they come out moist and flavorful beyond your expectations. And the nice part about summer sausage is that there are several ways to serve it: You can serve it just sliced, on a Charcuterie board, heated up on the grill for sandwiches or fried on the stove with a little oil. However you choose to serve it up, Hi Mountain Seasonings Summer Sausages will be a delicacy for all who indulge. An added bonus is that summer sausage is gluten-free and it fits in with the popular keto diet. So if you are trying to diet, be sure to start making some Hi Mountain Seasonings summer sausage and enjoy all you want!
Today, you can take summer sausage to the next level by making your own with the Hi Mountain Seasonings Summer Sausage Variety Kit. These mouth-watering sausages can be made both from wild game meat and commercial meats, and are perfect for special fall activities like tailgating, the baseball playoffs, in-home football parties, a backyard barbecue, hunting camps – or whenever the mood strikes you! MSRP for the Hi Mountain Seasonings Summer Sausage Variety Kit is $39.99.It's available for shipping now at the Hi Mountain Seasonings website, www.himtnjerky.com.
Hi Mountain's entire line of products, cooking tips, instructional videos and recipes are also available at www.himtnjerky.com. Hi Mountain products also can be found at high-end sporting-goods stores, farm-and-ranch stores and many local grocery stores.
Located in the heart of Wyoming, Hi Mountain Seasonings was founded in 1991. It is the premier manufacturer of kits for homemade jerky and sausage. Hi Mountain Seasonings has successfully captured distinct, traditional Western flavors in its jerky cure & seasonings, Western-style seasonings, bacon cures and other products that make up the unique line of gourmet Western seasonings. For additional information, write: Hi Mountain Seasonings, 1000 College View Drive, Riverton, WY 82501; call toll-free 1-800-829-2285; or visit the company website at www.himtnjerky.com.
# # #
Editorial Contact:
Karen Lutto
(210) 451-9113 (office)
(804) 539-6699 (cell)
HOC Website: www.hunteroc.com