NEWS RELEASE
FOR IMMEDIATE RELEASE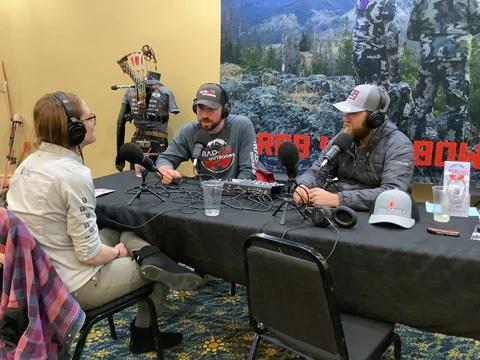 Riverton, WY (April 25, 2022) — Hi Mountain Seasonings, renowned for the world's best jerky and sausage making kits, today announced it has renewed its partnership deal with RadCast Outdoors Podcast. In its fourth year with more than 80 episodes, RadCast Outdoors Podcast is dedicated to providing outdoor content, recruiting the next generation of hunters and anglers and helping to expand the knowledge of people who participate in those activities.
RadCast Outdoors podcast hosts, David Merrill and Patrick Edwards are authentic outdoor enthusiasts with extensive outdoor hunting and fishing experiences. They both spend vast amounts of time pursuing the activities and hobbies they love most. David is the avid hunter while Patrick is an avid angler, and both are experienced outdoorsman. The two in combination bring their audience the best outdoor podcast available. They cover a multitude of topics from fishing techniques, hunting strategy to in-depth looks at specific species. They host well known guests and also local experts to bring the viewers valuable information with every show and share a variety of recipes each episode featuring Hi Mountain Seasonings products.
"With Hi Mountain Seasonings plethora of seasonings, jerky and sausage kits, marinades, dips, rubs and Bacon cures serving up delicious recipes that will impress even the fussiest eaters is easy," said David Merrill. "You don't have to be a whiz in the kitchen to rustle up a great meal – Hi Mountain Seasonings does all the work for you. That is why we can't imagine preparing anything in the kitchen without one of their great products!"
To learn more about Hi Mountain Seasonings, the hosts and guests of RadCast Outdoors be sure to tune in regularly to RadCast Outdoors as new podcasts are posted regularly – https://radcastoutdoors.com/pages/about-us or CLICK HERE. To sign up for regular RadCast Outdoors updates CLICK HERE.
Hi Mountain's entire line of products, cooking tips, instructional videos and recipes are also available at www.himtnjerky.com. Hi Mountain products also can be found at high-end sporting-goods stores, farm-and-ranch stores and many local grocery stores.
Located in the heart of Wyoming, Hi Mountain Seasonings was founded in 1991. It is the premier manufacturer of kits for homemade jerky and sausage. Hi Mountain Seasonings has successfully captured distinct, traditional Western flavors in its jerky cure & seasonings, Western-style seasonings, bacon cures and other products that make up the unique line of gourmet Western seasonings. For additional information, write: Hi Mountain Seasonings, 1000 College View Drive, Riverton, WY 82501; call toll-free 1-800-829-2285; or visit the company website at www.himtnjerky.com.
# # #
Editorial Contact:
Karen Lutto
(210) 451-9113 (office)
(804) 539-6699 (cell)
HOC Website: www.hunteroc.com