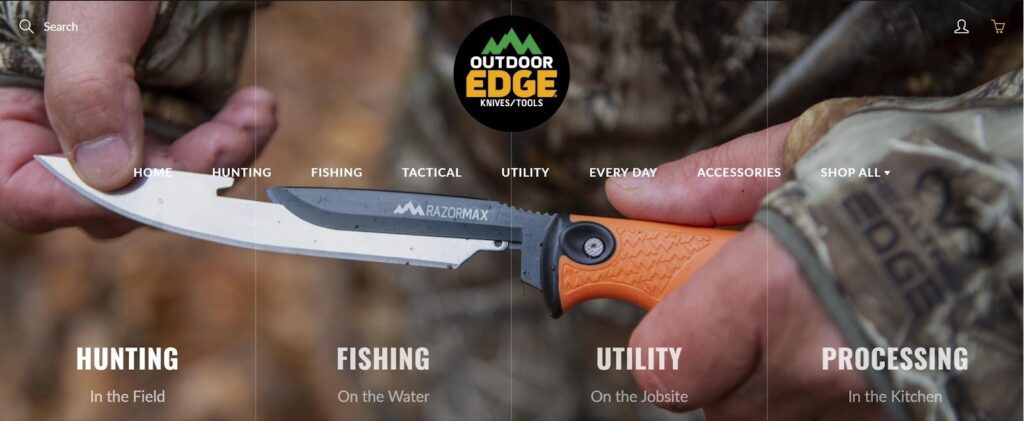 DENVER (Sept. 7, 2021) — Outdoor Edge, America's leading manufacturer of knives and tools for all things outdoors, is pleased to announce the launch of the newly designed website. The website address remains the same, https://www.outdooredge.com/.
Outdoor Edge is inviting visitors to explore the new website which has been designed to offer the ultimate user-friendly experience with improved navigation and functionality while allowing customers to see the full product portfolio Outdoor Edge has to offer. Designed with the user experience in mind, the site includes many new features to help visitors quickly and easily navigate the site and variety of products offered by Outdoor Edge. In addition to the special products feature section, the new site includes links to the Outdoor Edge Instagram, a wild game recipe library with a new recipe added every other Wednesday, company history and optimized image processing for quicker load times on all devices.
"Our goal during this design process was to create a more valuable, user-centric and responsive resource across all platforms and devices," said Will Morgan, marketing director. "Specifically, we wanted to focus on making it easier for users to learn about our products and locate the ideal product for their specific needs."
The new website will be updated on a regular basis with news of new product launches, promotions, giveaways and other important news. Visitors are encouraged to explore the website on a regular basis. To visit now Click Here.
About Outdoor Edge
Founded in 1988 and headquartered in Denver, Outdoor Edge is a leading designer and manufacturer of knives and tools. Today, Outdoor Edge continues to innovate and develop state-of-the-art products for outdoor enthusiasts, game processors, survivalists, handymen and others who require the very best knives and tools available for leisure, work and everyday-carry needs. The company prides itself in offering a variety of products that undergo extensive field-testing in harsh, rugged environments resulting in durable, long-lasting products that come with a lifetime guarantee. For additional information on Outdoor Edge and its full line of products write to: Outdoor Edge, 5000 Osage Street, Suite 800, Denver, CO 80221; call toll-free 800-477-3343; email [email protected]; or visit www.outdooredge.com.
Editorial Contact:
Karen Lutto
(210) 451-9113 (office)
(804) 539-6699 (cell)
[email protected]HOC Website: www.hunteroc.com