NEWS RELEASE
FOR IMMEDIATE RELEASE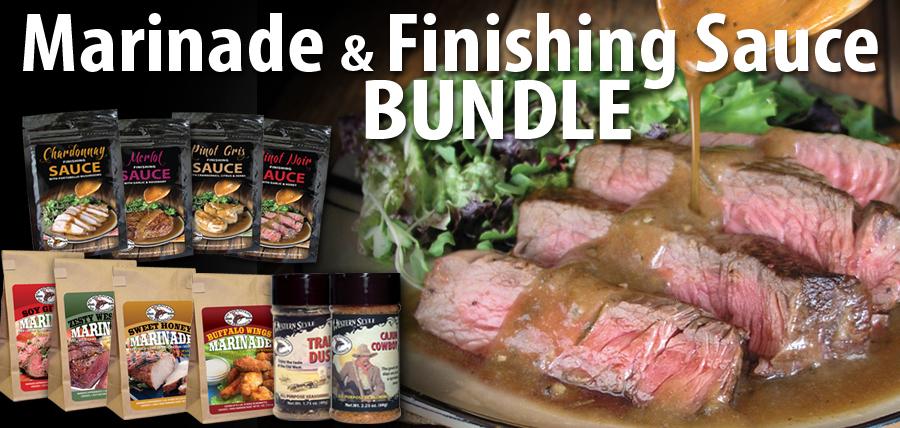 Riverton, WY (June 28, 2022 ) — Hi Mountain Seasonings' Marinade & Finishing Sauce Bundle makes transforming ordinary dishes into extraordinary mouthwatering culinary creations a breeze. Whether preparing meat, poultry, fish or vegetables, this bundle has the perfect sauce, marinade or seasoning to easily turn your meal into a gourmet dish that will satisfy even the pickiest eater. The ingredients in this bundle are the perfect finishing touch to any meal.
This Bundle includes four easy to use marinades: Zesty Western, Soy Ginger, Sweet Honey and Buffalo Wings, four delicious finishing sauces: Merlot with Garlic & Rosemary, Chardonnay with Portabella Mushrooms, Pino Gris with Cranberries, Citrus & Herbs and Pinot Noir with Garlic & Honey and two of the most popular Western Style Seasonings: Trail Dust and Cajun Cowboy. Use an individual item or combine a few to create the perfect entrée or side dish.
The Hi Mountain Seasonings Marinade & Finishing Sauce Bundle with 10 great seasonings is available exclusively online at www.himtnjerky.com and has a suggested retail price of $35.69 but is currently on sale for $28.49. To order CLICK HERE or visit www.himtnjerky.com. The individual products can be purchased at retailers nationwide. Marinades retail for $3.99, Finishing Sauces are $2.99 and the Western Style Seasonings retail for $4.99.
Hi Mountain's entire line of products, cooking tips, instructional videos and recipes are also available at www.himtnjerky.com. Hi Mountain products also can be found at high-end sporting-goods stores, farm-and-ranch stores and many local grocery stores.
Located in the heart of Wyoming, Hi Mountain Seasonings was founded in 1991. It is the premier manufacturer of kits for homemade jerky and sausage. Hi Mountain Seasonings has successfully captured distinct, traditional Western flavors in its jerky cure & seasonings, Western-style seasonings, bacon cures and other products that make up the unique line of gourmet Western seasonings. For additional information, write: Hi Mountain Seasonings, 1000 College View Drive, Riverton, WY 82501; call toll-free 1-800-829-2285; or visit the company website at www.himtnjerky.com.
# # #
Editorial Contact:
Karen Lutto
(210) 451-9113 (office)
(804) 539-6699 (cell)
HOC Website: www.hunteroc.com