NEWS RELEASE
FOR IMMEDIATE RELEASE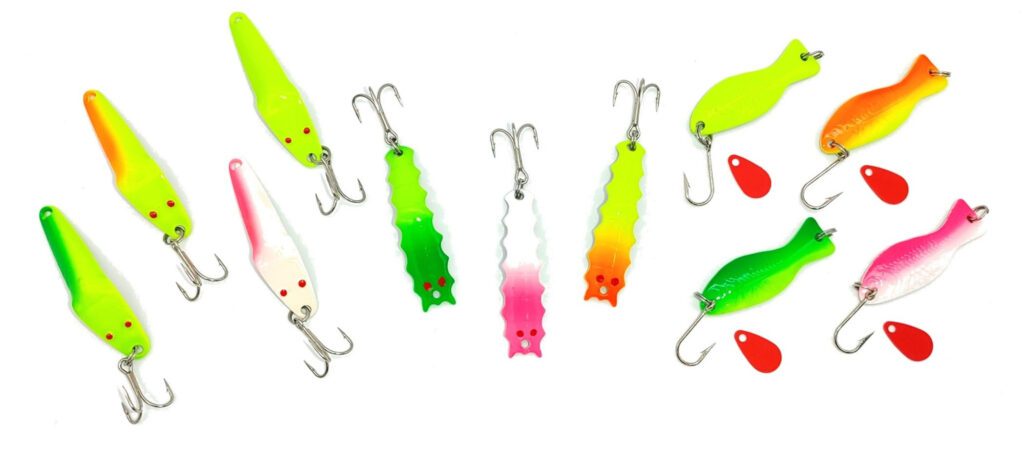 ELIOT, Maine (Jan. 9, 2023) — As the temperatures continue to plummet across the country many people are panicking and grabbing for parkas, but ice anglers across the Midwest and northern states are grinning ear-to-ear with excitement for what this winter has to offer. Ice anglers know that good tackle can bring a great day of ice fishing and can withstand the harsh conditions associated with fishing the ice. That is why they reach for Al's lures which have been a staple on the hard winter waters for over 70 years.
The Al's Goldfish, the original lure that started the company and is still one of the most popular in its line, is a spoon that when jigged reflects light and shines throughout the water. This popular lure has proven itself for seventy years now and is still a modern-day staple in every ice angler's tackle box. Its proven versatility to catch an array of fish is also why it has been on several lists of best fishing lures of all time. The Goldfish Ice Jig is a 3/16 oz. lure body rigged with a single hook off the nose. The lure comes with an optional red flasher tab and is available in a full array of colors for all fishing opportunities.
Al's Helgy, which resembles a hellgrammite, measures 1-3/4 inches in length and weighs 1/4 oz. It is plated in either 22k gold, nickel, or copper and comes in a variety of painted colors. Al's Helgy flutters on the drop when jigged, making it a good spoon to jig through the ice. The ice fishing version of Al's Helgy comes with a glow-in-the-dark nose for added attraction.
Another Al's lure which has been proven to be effective and is a quite popular option among ice anglers is Al's Forty Niner, which comes in two versions. The original Forty Niner, which weighs 5/16 oz. and is 2 ¼ in. long is effective for targeting walleye and other larger species. The smaller version, the Lil' 49er, weighs ¼ oz and is 1 ¾ in. long making it a staple for bass, trout, and panfish. The design of these lures creates quite an erratic action when gigged, encouraging you to watch your fish-finder waiting for the next strike.
If you like the option of selection of Al's ice jigs, Al's offers a build your own glow kit option that comes with four ice jigs of your choosing. The glow-in-the-dark-paint can be a key feature for ice fishing, due to ice making the water much darker (especially on overcast days). This kit is a great option to test out each jig and find which one (s) you may like the best and which work best for the fish you are targeting – or you may find you like them all equally.
All of Al's lure products are proudly made in the United States. To order, or learn more about Al's Goldfish Lure Company, please visit www.alsgoldfish.com, or call 413-543-1524 and they will be happy to assist you.
Grab your rod and your Al's lures and bundle up for a fun and eventful day on the ice!
About Al's Goldfish Lure Company
The company was launched in 1952 with a single pioneering spoon lure, known as Stuart's Goldfish, named after founder Al Stuart. The company's flagship lure was renamed Al's Goldfish in 1954, and by 1973 the popularity of the Goldfish lure soared to nearly one million lures sold in a year. Along the way, other popular lures, such as the Forty-Niner and Helgy, and hook bonnet lure accessories were added to the company's list of American-made products. In 2015 the line was expanded to include the Saltwater Goldfish series. In 2022, present owners Jeff and Mandy DeBuigne celebrated the 70-year anniversary of the Goldfish lure. For more information on Al's Goldfish Lure Company visit www.alsgoldfish.com.
Editorial Contact:
Karen Lutto
210-451-9113 (office)
804-539-6699 (cell)
Website: www.hunteroc.com