NEWS RELEASE FOR IMMEDIATE RELEASE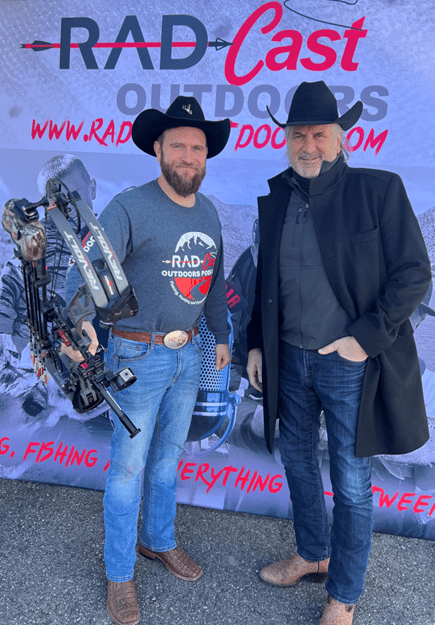 KINNEAR, Wyo.(March 29, 2023) —The March 22, 2023 edition of the RadCast Outdoors Podcast – "Hunting, Fishing, and Everything in Between" – features special guest and hunting legend Jim Shockey. Sponsored by Bow Spider (www.bowspider.com), Hi Mountain Seasonings (www.himtnjerky.com), and PK Lures (https://pklure.com/), this episode features Bow Spider's David Merrill, Brown Company's Rowdy Anderson, 307 Pursuit's Blake Fegler, RadCast's Patrick Edwards, and Morning 10's Charene "The Adventure Queen" Herrera talking with Shockey about a wide variety of topics related to hunting, fishing, and the great outdoors.
Shockey traveled to Lander Wyoming to speak at the March 25, 2023 Muley Fanatic Foundation, 10 Country Chapter event. He is a true legend in the hunting community, both as an outfitter, hunter, television host, and more, and was awarded the prestigious Weatherby Award in 2018. In this captivating podcast Shockey talks about his career, wolves, bears, fly fishing, gun laws, his kids, and his new book, "Call Me Hunter," available for presale right now on www.Amazon.com and many other places.
This 79-minute podcast is chock full of interesting insights and fun stories, and is a must-listen event for all serious outdoorsmen and women. You can hear it right now here: https://radcastoutdoors.com/blogs/radcast-outdoors-podcast-episodes.
About Recreational Archery Development LLC (RAD, LLC): Founded in 2019 and headquartered in Kinnear, WY, RAD, LLC is a leading designer and manufacturer of innovative products for the outdoor industry, including the Bow Spider brand of products. Bow Spider's intuitive design makes bow retrieval fast and easy in any situation. The product is proudly made in the USA and gives one percent of all sales to conservation. The company also offers veterans a 15 percent discount on all products. (To take advantage of this offer orders need to be called in directly to the company at 307-438-9290.) For additional information on RAD, LLC and the Bow Spider brand of products write to: RAD, LLC, PO Box 171, Kinnear, WY 82516; call 307-438-9290; email [email protected]; visit www.bowspider.com.
Editorial Contact:
Karen Lutto
210-451-9113 (office)
804-539-6699 (cell)
HOC Website: www.hunteroc.com