NEWS RELEASE
FOR IMMEDIATE RELEASE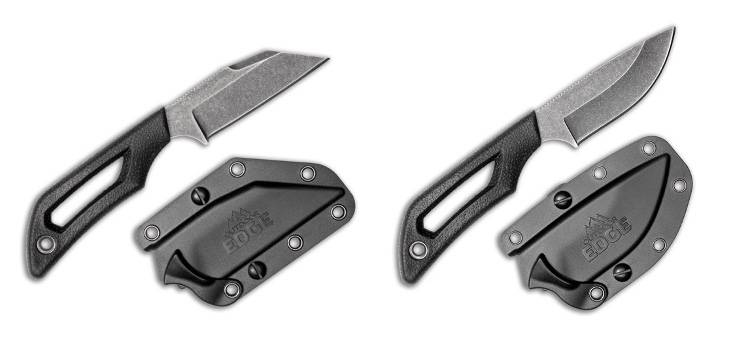 Outdoor Edge® Introduces the Pivot Knives
DENVER (June 8, 2023) – Outdoor Edge is pleased to announce the immediate availability of the Pivot fixed blade knives. A redesign of the popular LeHawk and LeDuck knives, the new Pivot line is available in a 2.6" Wharncliffe Blade and a 2.5" Drop Point Blade.
The new Pivot offers an ergonomically redesigned rubberized thermoplastic rubber handle that fits safely and securely in the hand for all your outdoor activities as well as a backup blade in any survival situation you find yourself in. The Pivot also features a 360 degree rugged polypropylene rotating sheath system with a removable clip that attaches to any belt, pack, flotation or diving vest, and is compatible with any MOLLE system, allowing for a multitude of carry options. In addition, the sheath quickly converts into a neck knife with the included paracord. When sheathed the knives will also fit easily into a pants pocket, or inside the glovebox of your vehicle. The superior edge retention and performance on the Pivot knives, is afforded by the Blackstone™ coated stainless steel blades that are precisely heat treated and hand finished shaving sharp, making them the perfect blade for a variety of cutting tasks.
The newly designed Pivot series is the perfect all-purpose, everyday carry knife that is simple in design but long in performance. They are in stock and currently available at retailers and conveniently online at www.outdooredge.com for a suggested retail price of $29.95. For additional information on the new Pivot CLICK HERE
SPECS
Wharncliffe Blade: 2.6 in Wharncliffe
Overall: 6.8 in
Drop-Point Blade: 2.5 in
Drop-Point Overall: 6.5 in
Steel: 8Cr13Mov stainless with Blackstone™ coating Rockwell-C
Hardness: 57
Handle: Full tang with rubberized TPR
Sheath: Polypropylene
Lanyard: Black 550 paracord Weight: 3.2 oz
About Outdoor Edge: Founded in 1988 and headquartered in Lakewood, Colorado, Outdoor Edge is a leading designer and manufacturer of knives and tools. Outdoor Edge continues to innovate and develop revolutionary products for hunters, outdoor enthusiasts, handymen and anyone who requires the very best knives and tools available for leisure, work and everyday-carry needs. The company prides itself in technology and innovation through its patented RazorSafe™ replaceable blade system, offering a variety of knife handles and blade profiles so you never have to sharpen your knife again, no matter the task. All knives and tools undergo extensive field-testing in harsh, rugged environments resulting in durable, long-lasting products that come with a lifetime guarantee. Outdoor Edge is a Revo Brands company.
About Revo Brands: Revo Brands is the parent company of enthusiast and mission critical brands that drive growth through superior innovation, design and marketing. Our brand portfolio features market leading brands Real Avid and Outdoor Edge. Visit www.RevoBrands.com for more information.
Editorial Contact:
Karen Lutto
(804) 539-6699 (cell)
(210) 451-9113 (office)
[email protected]
HOC Website: www.hunteroc.com