NEWS RELEASE
FOR IMMEDIATE RELEASE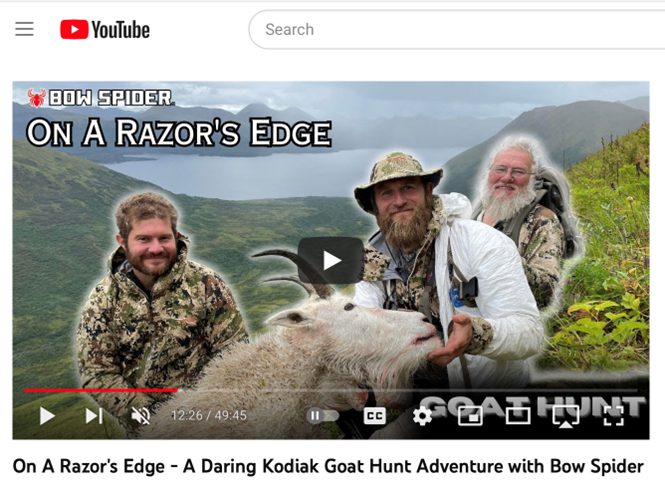 KINNEAR, Wyo. (Aug. 21, 2023) — Few places in North America challenge even the most hardcore mountain hunter the way the vast reaches of Kodiak Island, Alaska does. The latest YouTube episode of the Bow Spider Saga, "On A Razor's Edge," will take you on a near-50 minute roller coaster ride as Bow Spider's David Merrill is joined by his father and brother on a DIY hunt for mountain goats and Sitka blacktail deer in this remote wilderness. Dropped off by float plane on a lake far from civilization, the Merrills backpack into the mountains, where they must overcome steep, unforgiving terrain, pounding sleet and rain, and fog that at times severely limits visibility to stalk within range of mountain goats and deer that live literally on the top of the world and can appear seemingly out of thin air. The film captures the true essence of this father-and-son expedition, showcasing the indomitable spirit of a family united by their passion for the outdoors. Here you can witness their determination, camaraderie, and the profound bond that only such an adventure can forge.
Don't miss the chance to be part of this extraordinary journey. Immerse yourself in the world of adrenaline, discovery, and nature's grandeur. Check it out here: https://www.youtube.com/watch?v=i8L0FAFTAvo&t=746s or Click Here. You can learn more about Bow Spider at bowspider.com, where you can gear up for your own unforgettable adventures!
About Recreational Archery Development LLC (RAD, LLC): Founded in 2019 and headquartered in Kinnear, WY, RAD, LLC is a leading designer and manufacturer of innovative products for the outdoor industry, including the Bow Spider brand of products. Bow Spider's intuitive design makes bow retrieval fast and easy in any situation. The product is proudly made in the USA and gives one percent of all sales to conservation. The company also offers veterans a 15 percent discount on all products. (To take advantage of this offer orders need to be called in directly to the company at 307-438-9290.) For additional information on RAD, LLC and the Bow Spider brand of products write to: RAD, LLC, PO Box 171, Kinnear, WY 82516; call 307-438-9290; email [email protected]om; visit www.bowspider.com.
Editorial Contact:
Karen Lutto
(804) 539-6699 (cell)
HOC Website: www.hunteroc.com