NEWS RELEASE
FOR IMMEDIATE RELEASE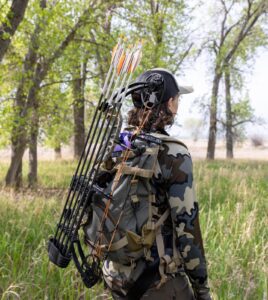 Compound or Crossbow,
Nothing Makes Packing It Easier Than the Bow Spider™ Bow Packing System
KINNEAR, Wyo. (Oct. 10, 2023) — As hunting seasons accelerate across America, serious outdoorsmen are always looking for ways to be more efficient in the field. Few pieces of equipment help bowhunters who choose either a compound bow or a crossbow increase both their efficiency and enjoyment more than the Bow Spider™ Bow Packing System.
"One of the biggest challenges bowhunters have faced down through the ages is having to carry their bow or crossbow in one hand, limiting what they can do as they hike the mountains, or travel to and from their stand locations," said David Merrill, founder of Recreational Archery Development (RAD) and The Bow Spider. "Or, if you strapped your bow to your pack, it was impossible to remove it quickly and quietly if an opportunity suddenly presented itself. With the Bow Spider, you can now pack either a bow or crossbow on your back, attached to your pack, or on your belt, leaving both hands free – and best of all, remove it in seconds and be ready for action."
The concept is simple and revolves around a lightweight, roundish bow holder. A short aluminum arm attaches to the bow's riser, and slides into a slot in this lightweight, injection-molded receiver. The bow is held securely in place via a gravity-locking system yet slides out with minimal effort. The Bow Spider Complete Bow Packing System comes with one Waist/Tree Belt, four Corner Screws, one Anodized Aluminum Post with rubber scratch guard, one Long Mounting Screw, and four Long Corner Screws. This system is great for both bowhunters and competitive archers. The Bow Spider universal bow packing system fits any compound bow and affixes to any pack, hip, tree, wall, or car for easy storage and access.
Introduced in September 2023, The Complete Crossbow Spider Kit includes one Receiver, one Post, two Spacers, two Picatinny Rail Clamps, two Jaw Clamp Bolts, three mounting bolts, three mounting straps, one nylon belt, and one puck mounting hardware bag. This system allows you to carry your crossbow hands-free and access it quickly. By utilizing the two round spacers (if needed), simply mount the crossbow post to your crossbow's Picatinny rail with the pic rail clamps, then mount the receiver to your backpack, hip, tree, headrest, wall, or side-by-side, and you're ready to rock.
For those who hunt without a large daypack or backpack or want to make their final stalk without wearing their pack, the Bow Spider Attack Pack harness system is the ticket. It features a sturdy harness system with Bow Spider receiver attached, enabling you to put the stalk on an animal without having to worry about dragging a bulky, noisy day pack with you. This is also great for wearing your Bow Spider on the range and at 3D shoots.
The Bow Spider Complete Bow Packing System has a MSRP of $94.95, the Complete Crossbow Spider Kit has a MSRP of $109.99, and the Bow Spider Attack Pack a MSRP of $49.99. They are available on the company's website, bowspider.com, where you'll also find more information on these, as well as the entire line of innovative Bow Spider products. 
About Recreational Archery Development LLC (RAD, LLC): Founded in 2019 and headquartered in Kinnear, WY,  RAD, LLC is a leading designer and manufacturer of innovative products for the outdoor industry, including the Bow Spider brand of products. Bow Spider's intuitive design makes bow retrieval fast and easy in any situation. The product is proudly made in the USA and gives one percent of all sales to conservation. The company also offers veterans a 15 percent discount on all products. (To take advantage of this offer, orders need to be called in directly to the company at (307) 438-9290.) For additional information on RAD, LLC and the Bow Spider brand of products write to: RAD, LLC, PO Box 171, Kinnear, WY 82516; call (307) 438-9290; email [email protected]; visit www.bowspider.com.
Editorial Contact:
Karen Lutto
(210) 451-9113 (office)
(804) 539-6699 (cell)