NEWS RELEASE
FOR IMMEDIATE RELEASE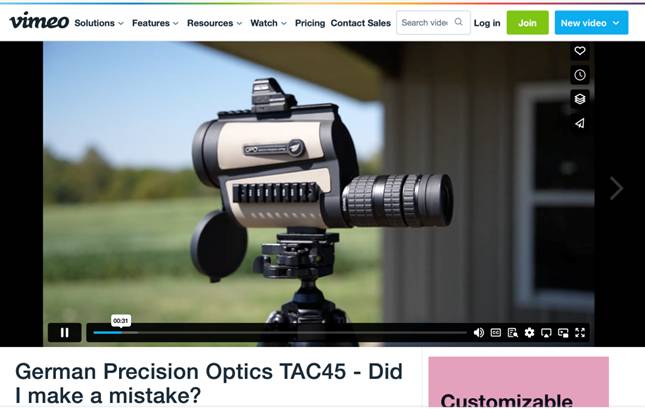 New Online Video Shows Off the Amazing GPOTACTM45 Spotting Scope
RICHMOND, Va. (Oct. 11, 2023) — GPO USA, a leading manufacturer and distributor of high-quality, affordable sporting optics, has a new 6:57 video online that showcases the features and benefits of the incredible GPOTAC45 15-45×60 tactical spotting scope.
Crafted with meticulous attention to detail and designed specifically for precision long-range shooters both on the range and in the field, the waterproof GPOTAC45 15-45×60 spotting scope features a custom first-focal plane reticle that provides accurate sub tensions at all magnifications, Picatinny rails, fully multi-coated Porro prism lens system, both fine and coarse focus adjustments, and a unique honeycomb objective filter lens cap which minimizes objective lens reflection, ensuring your view remains clear and unobstructed, even in challenging lighting conditions. It is tripod mountable, measures 5.5×3.3×10.9 inches, and weighs in at a svelte 44 oz.
Notable are the Picatinny rails on both the side and top, allowing you to quickly and easily mount a Kestrel unit on the side and a red dot sight on top. As a special bonus, the PLR reticle in this spotting scope perfectly matches the first focal plane reticle found in the GPOTAC 4.5-27x50i riflescope. This seamless integration creates the ultimate scope and spotter combination, providing you with an unparalleled advantage in the field.
This informative video is available now at https://vimeo.com/manage/videos/872486102, as well as also live on the YouTube Precision Rifle Network, https://www.youtube.com/results?search_query=precision+rifle+network,
and https://www.youtube.com/watch?v=jBDWis8ayKM.
Backed by GPO's lifetime warranty, MSRP for the GPOTAC45 rangefinder is $1349.99. It's available from GPO USA dealers nationwide, as well as on the company's website, www.gpo-usa.com, where you can find information about the company's entire line of high-quality, affordable riflescopes, binoculars, laser rangefinders, accessories, and much more. Be sure to register for the GPO "Gear Up for The Range" Sweepstakes prize package which includes a GPO GPOTAC 4.5-27x50i premium tactical riflescope, a Mossberg Patriot LR Tactical in 6.5 PRC, 10 boxes of Hornady 6.5 PRC 147 grain ELD Match ammunition, a Vanguard Endeavor L 303 CGM full-size carbon fiber shooting tripod with gun mount, a Vanguard Porta-Aim and Talley Picatinny scope rings. One lucky winner will win the entire sweepstakes package. Entering the contest is easy. Simply go to the GPO Facebook page https://www.facebook.com/gpousaoptics or Instagram page https://www.instagram.com/gpo_usa/ and find the sweepstakes post and click on it, or visit the GPO promotional page located at https://gpo-usa.com/promotions/ or Click Here
About GPO USA
GPO USA, an American company, was founded on the premise that design, engineering, and quality control can be 100 percent conducted in Germany to its strictest standards, yet products can be assembled at some of the largest production facilities around the world. This unique production process allows GPO to offer the highest quality products with better features at a significantly better price. GPO USA is confident that its products will not only function perfectly but will always exceed its customer expectations. Therefore, GPO USA has created an industry-leading Spectacular Lifetime Warranty™. With outstanding professional service, GPO USA will take care of its products before, during, and after the purchase at no charge—EVER. Founded in 2016, GPO USA is headquartered in Richmond, Va. For more information on GPO USA visit www.gpo-usa.com or call 844-MY BINOS
Editorial Contact:
Karen Lutto
(804) 539-6699 (cell)
[email protected]
HOC Website: www.hunteroc.com